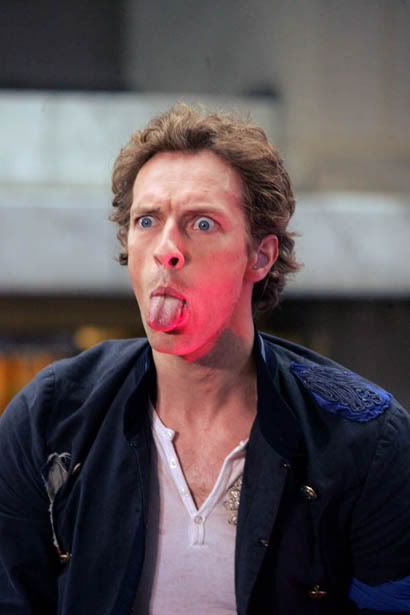 Coldplay's fourth album, "Viva La Vida" premiered at number one on the Billboard chart and is getting high praise from critics and fans. The band was on The Today Show this morning and performed for a huge crowd.
Chris Martin: "Ryan Seacrest designed our outfits"
When asked by Ann Curry how they achieved such success, lead singer Chris Martin quipped "Well, we took on a big team of financial advisers and marketers and stylists and Ryan Seacrest designed our outfits… No no what we tried to do is make everything as homemade as possible."
Drummer Will Champion "It's a nice gesture" to give away music
Meredith Viera asked why they started giving away their music and doing free concerts and drummer Will Champion explained "We'd been away for a while and we didn't expect anyone to have to pay for our music without any encouragement, so we think it's a nice gesture. 'Here you go, have it for free.'"
Ann asked "Guy, you said it was the boldest and most confident record you've done. Would you say that?" [hands mike to guitarist Johnny Buckland]
Johnny got a little nervous, and said "Yeah, I dunno… We just had a great time in the studio recording it. We worked with incredible people… Brian Eno, who's our hero."
Bass player Guy Berryman added "I don't think it really sounds like our last three records… there's going to be a few surprises." [audience screams when Guy starts talking]
Chris Martin: everyone wants to see our "handsome bass player"
Chris Martin joked "Most of the audience comes to see our handsome bass player, Guy. The music is secondary."
Anne Curry concluded that "There's something real authentic on this album and it reaches out deep into all of us."
Here are the videos. The music starts in the first video at 2:40, and Chris Martin has a rough start and laughs during "Viva La Vida," saying "I messed up the beginning but that's ok."
Interview and "Viva La Vida"

"Clocks"

"Lost"

"In My Place"

"42"

Thanks to WENN for these photos, many of which were taken during the live rehearsals.