Rob Lowe was sued for sexual harassment this spring by a nanny who worked for his family for seven years, returning once on her own volition. The nanny, Jessica Gibson, 24, is being represented by aggressive press-hungry celebrity attorney Gloria Allred. In a less than credible appearance on The Today Show, Gibson grinned guiltily and laughed inappropriately while Allred answered most of the questions, holding her hand and controlling the interview.
Allred managed to rustle up another nanny to file suit against the Lowes for sexual harassment, and in the press conference she held with the shaking, sobbing nanny Allred spoke the entire time, holding the poor woman by the shoulders. Allred actually covered the woman's mouth when she tried to speak.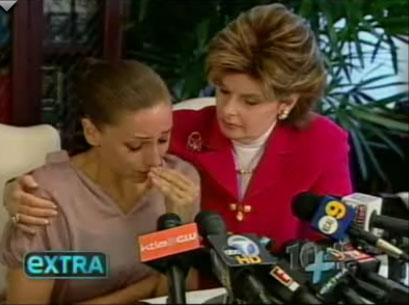 While Jessica Gibson says Lowe exposed himself to her and groped her, the other nanny accuses his wife of creating a hostile work environment by openly discussing her sex life and occasionally walking around naked. Neither Gibson or the other nanny mentioned the supposed harassment to any of their superiors or lodged a complaint prior to filing these lawsuits.
Now Lowe's legal team has submitted three declarations to the court from various people who worked for his family which make it clear that Gibson is a less than credible witness. The most damning statement comes from her own sister.
Jessica Gibson's sister: She was doing it because the Lowes owed her money
Jamie Gibson Sprovieri worked as estate manager for the Lowes for four years, and indicated that her sister was hoping to settle the case for a hefty sum. Her statement claims that not only did her sister never tell her about the alleged harassment or even complain about Lowe prior to filing suit, but that she also told her that she wouldn't have sued if the Lowes would have paid her $200 they owed her.
In or about March, 2008, Jessica told me that she had sent the Lowes a demand with a complaint because she was alleging that Rob Lowe had been sexually harassing her. Jessica told me that she had made the demand through an attorney named John Richards and that she was asking for $1.5 million. Jessica said that she decided on $1.5 million because she had heard that another well-known actor had paid that amount to a woman who threatened to bring a sexual harassment claim against him.

During the conversation described above, Jessica also told me that if the Lowes had just paid her the $200 that she said they owed her, none of this would have happened. I understood her comment to mean that she would not have made a demand against the Lowes for $1.5 million or accused Rob Lowe of sexual harassment if they would have just paid the $200.

This conversation was the first time that Jessica had ever said anything to me about Rob Lowe doing anything that she thought was inappropriate. In fact, she had never complained to him to me before this conversation.
[From PDF of Jamie Gibson's declaration available on TMZ.com]
Chef says Jessica Gibson hit on him relentlessly, was a sex predator
In another recently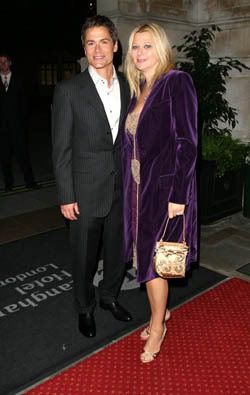 filed declaration, a chef who worked for the Lowes in London says that Jessica was sexually inappropriate and acted like a "predator." The chef says he resisted her advances and told her multiple times that he had a girlfriend, but she wouldn't let up and even sang that stupid "Dontcha wish your girlfriend was hot like me" song right to his girlfriend's face.
I observed from the first day that Jessica arrived in London… that she had an overly flirtatious manner and appeared to be somewhat of a sexual predator. Within hours of her arrival, she had changed into hot pants and was laying on the kitchen floor with her legs open in a very suggestive manner. Her conduct made me feel uncomfortable because I felt it crossed personal boundaries especially considering that we had only known each other for a few hours…

When my girlfriend was around, Jessica would be flirtatious with me and create the impression that something was going on between the two of us. On John Owen's birthday at Pizza in the Park she sang the lyrics to the Pussy Cat Doll's "Don't cha…" to my girlfriend across the table while looking at her and then me.
[From PDF of James Maclear's declaration, available on TMZ.com]
48 year-old tennis instructor: I got some of that but she was crazy
And the most entertaining declaration comes from a 48 year-old tennis instructor who worked with the Lowe children when they lived in England.
He admitted he was having an affair with Jessica, but said he made it clear that he had a longterm girlfriend and wasn't about to leave her. The needy girl also sang "Dont cha" by the Pussycat Dolls in an unoriginal and desperate bid for his affection. He described another incident in which she took off her pants in the kitchen and wanted him to have sex with her when the boys she was supposed to be watching were in the house and apt to walk in.
Jessica told me shortly after we first met that she was interested in me. I was flattered that a twenty-two year old woman would have such an interest in me. I was forty-eight at the time. I made it clear to Jessica that I was in a serious relationship and I would not break up with my girlfriend.

During the following few months that I knew Jessica, she was very forward with me and did not seem concerned with being discreet. For example, on one occasion in the evening when Matthew and John Owen and [sic] were running around in my employer's home, I walked into the kitchenette area. Jessica was standing in the kitchenette and had taken off her pants and underwear and invited me to have sex even though the boys were in the general area. I was shocked by her audacity. I told her that we could not do that and walked out of the room…

It had become apparent that Jessica was struggling with the fact that I would not end the relationship with my girlfriend. Jessica was taking the relationship with me more seriously. For example, on one occasion, she started singing "don't you wish your girlfriend was hot like me," the lyrics to a popular song at the time, when I was around. She would also tell me that she loved me on a number of occasions.
[From PDF of Nigel Armstrong's declaration available on TMZ.com]
Of course the tennis instructor says that Gibson never gave him any indication that Rob Lowe was inappropriate with her in any way.
There are more semi-salacious legal documents related to the case on TMZ, including a declaration by Rob Lowe's wife Sheryl in which she says Jessica came to see her husband while wearing just a towel and tried twice to get him to put sunblock on her. There are also dumb text messages between Jessica and her boyfriend from earlier this year. She calls her employer Sheryl crazy and the boyfriend jokes that they should beat up the Lowes, steal their jewelry and escape to Mexico.
The Lowes are also suing Gibson, and say she is in violation of a confidentiality agreement and is lying. Their case just got a hell of a lot stronger.