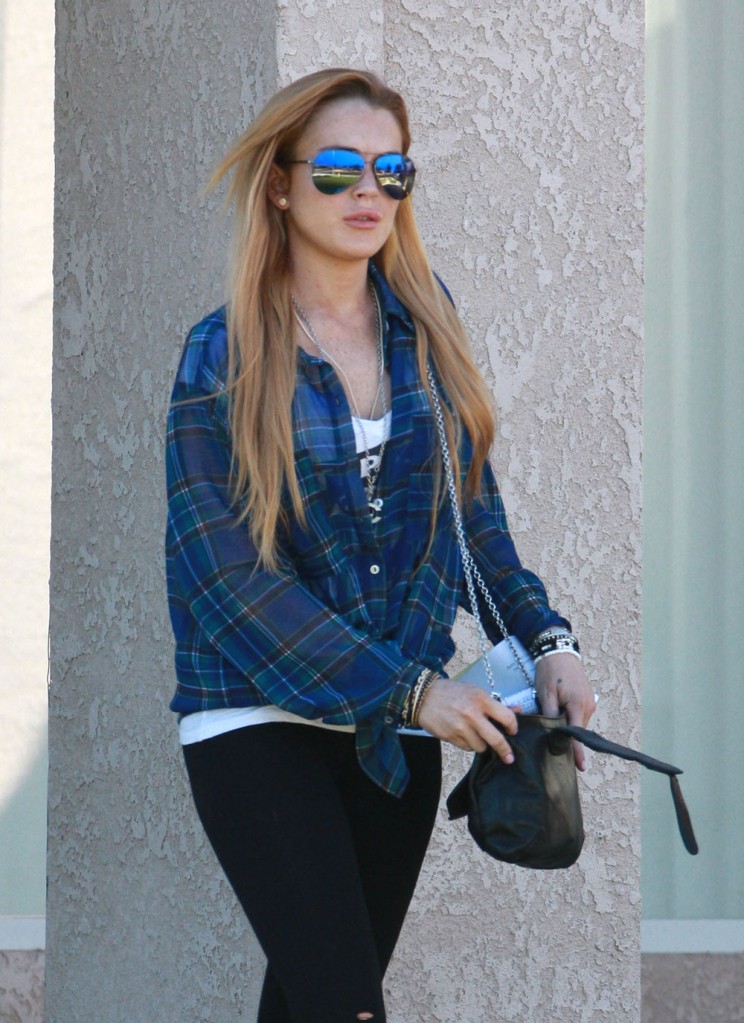 Lindsay Lohan is supposed to be in court ordered rehab as an alternative to additional jail time. She did go to the Betty Ford center, but is now in a nearby "sober house" instead of rehab proper. That sounds acceptable and like she's working the program, only Lohan has been seen out and about several times in the last few days. She was photographed on Wednesday, Thursday and Friday of last week, and it turns out that she spend Saturday at her condo with her assistant and without any kind of sober minder from rehab. This must have been part of the "work pass" she was clamoring for. How is it a "work pass" if she spends the entire day at home getting "supplies"? What's more is that Lohan shot a photoshoot for an ad campaign the next day.
Lindsay Lohan was back at her West Hollywood condo Saturday, but no worries…her rehab days aren't over just yet.

The 24-year-old Mean Girls star received a day pass from the Betty Ford Center for good behavior, which allowed her spend a day away from the rehabbing compound.

Lohan was whisked away from her Betty Ford-supervised home in Rancho Mirage Saturday morning around 8:20 a.m. by her dedicated assistant known only by the name of Eleanor. Lohan, wearing black leggings, a blue flanel top and black boots, arrived at her condo around 10 a.m.

While Lohan wasn't accompanied by a Betty Ford counselor or sober partner, her father, Michael, later arrived at her building. A source close to the family said Lindsay had asked Michael to bring her dinner, which he did.

Lindsay collected some necessities from her place and returned to her treatment facility around 11 p.m. But her weekend getaway isn't over just yet. On Sunday she is reportedly planning to do a photo shoot for a clothing line at a site near Rancho Mirage. – E! Online

Lindsay Lohan returned to the Betty Ford Center at about midnight Saturday night, RadarOnline.com has confirmed, but Sunday is no day of rest for the rehabbing starlet.

Linds is shooting an ad campaign for the Russian fashion line Kira Plastinina at a location near Betty Ford in Rancho Mirage, CA.

As RadarOnline.com reported, Lindsay and her assistant Eleonore arrived at her West Hollywood apartment at midday Saturday after having been given a "day pass" from Betty Ford to attend to some business needs.

Lindsay is, we've been told, strictly following all the rules the court and her counselors at Betty Ford have imposed on her.

She's said to be taking her counseling "seriously," although sources tell us her attorneys may try to convince the court to allow her to end her rehab earlier then her currently-scheduled January 3 discharge. – Radar Online
[Sources linked in text]
So this girl had the choice of going to jail or rehab and she went to rehab for a while and is now predictably working the system to get as many privileges as possible. I hope that the judge sees what's going on and either puts a stop to it or puts her scrawny ass in jail. This is how she got jail time in the first place – she couldn't bother to show up to alcohol education classes. How many chances can she piss away before there aren't any options left? Is she even getting drug tests now?
Lindsay is shown in the header and below on 11/12/10. Credit: Fame Pictures. Her dad is shown outside her place talking to passersby on 11/13/10. Credit: WENN.com