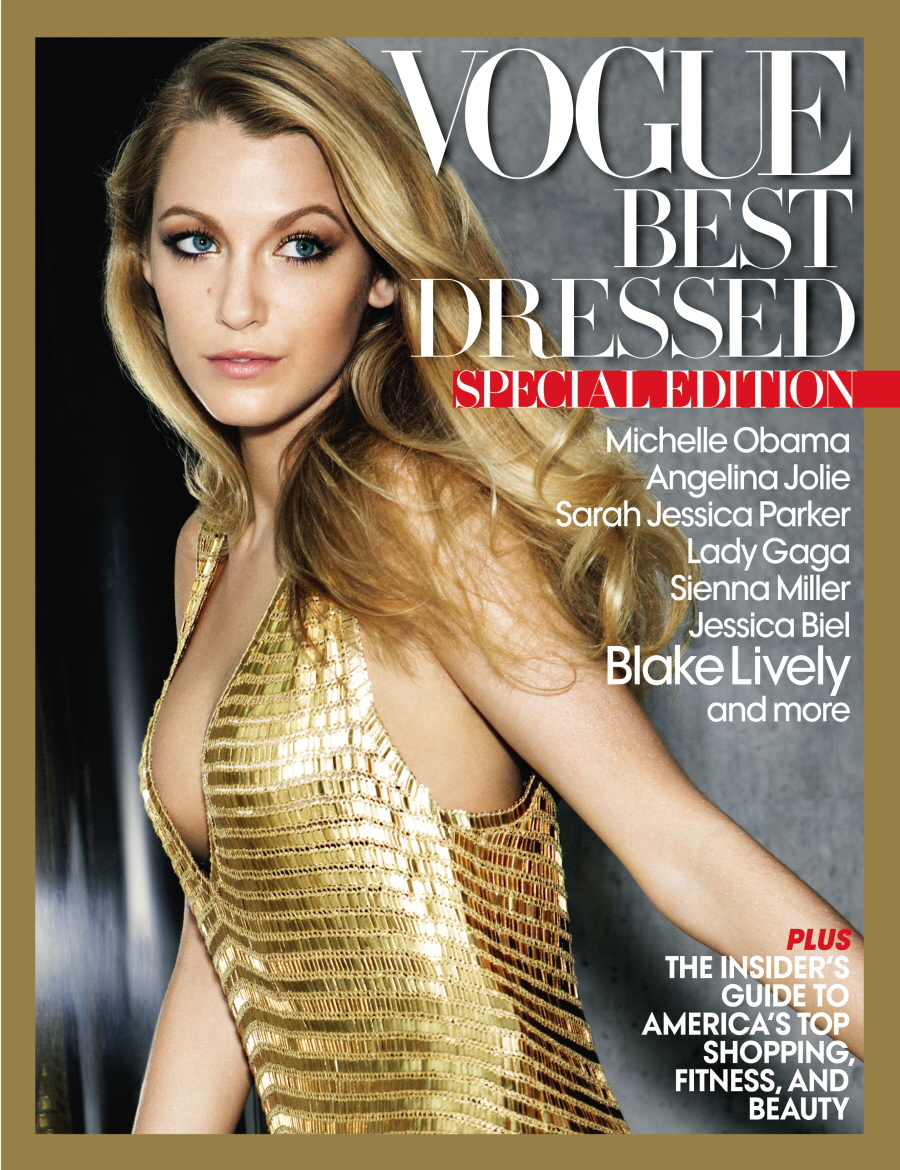 Vogue Magazine (American) has just released their "Best Dressed of 2010" list, and it is… not good. Some of the choices are completely obvious, some are completely wrong, and some are completely dumb. From what I understand, this is going to be a "special issue" – usually they put their best-dressed list in the December or January issue, but this is going to be a separate thing. I hope it gets sent to subscribers (hello!). Anyway, one of the biggest wrong/dumb choices was to put Blake Lively's jacked tittays on the cover of the special issue. Now, is Blake a pretty girl? I think so. Is she a good dresser? It's hit-or-miss, and more often than not, her style is just kind of trashy and tacky. But why put her jacked tittay on the COVER?!? Ugh. Here's a little more about the rationale "behind the tittay".
The January issue of Vogue has historically been dedicated to the best dressed women of the year; it is the issue where we take stock and anoint those whose sartorial skills warrant some recognition.

"Inevitably, we're overflowing with ideas, photos, and candidates—and there just isn't room for all of it," explains Vogue Style Director Alexandra Kotur. "So this year, we decided to create a special issue devoted just to the best dressed."

Kotur eagerly took on the role of issue editor, and the final product not only names the best dressed of the year and the decade but also boasts an exclusive interview with Natalia Vodianova, a look at the chicest couples, and an insider's guide to the top shopping, fitness, and beauty in America. The issue, which is Vogue's very first special edition and sure to be a collector's item, was months in the making and goes on sale at newsstands today for a limited time.
[From Vogue]
The Vogue slideshow is here – you can actually vote on who you think is the best-dressed of the year. I'll just put the list and what labels Vogue has given them:
Blake Lively – "The Bombshell"
Marion Cotillard – "The Screen Siren"
Michelle Obama – "The Independent"
Jessica Biel – "The American Beauty"
Alex Chung – "The Street Cool"
Sarah Jessica Parker – "Haute Bohemian"
Liya Kebede – "Conscious Cool"
Carey Mulligan – "The Free Spirit"
Lady Gaga – "The Visionary"
Cover courtesy of Vogue.