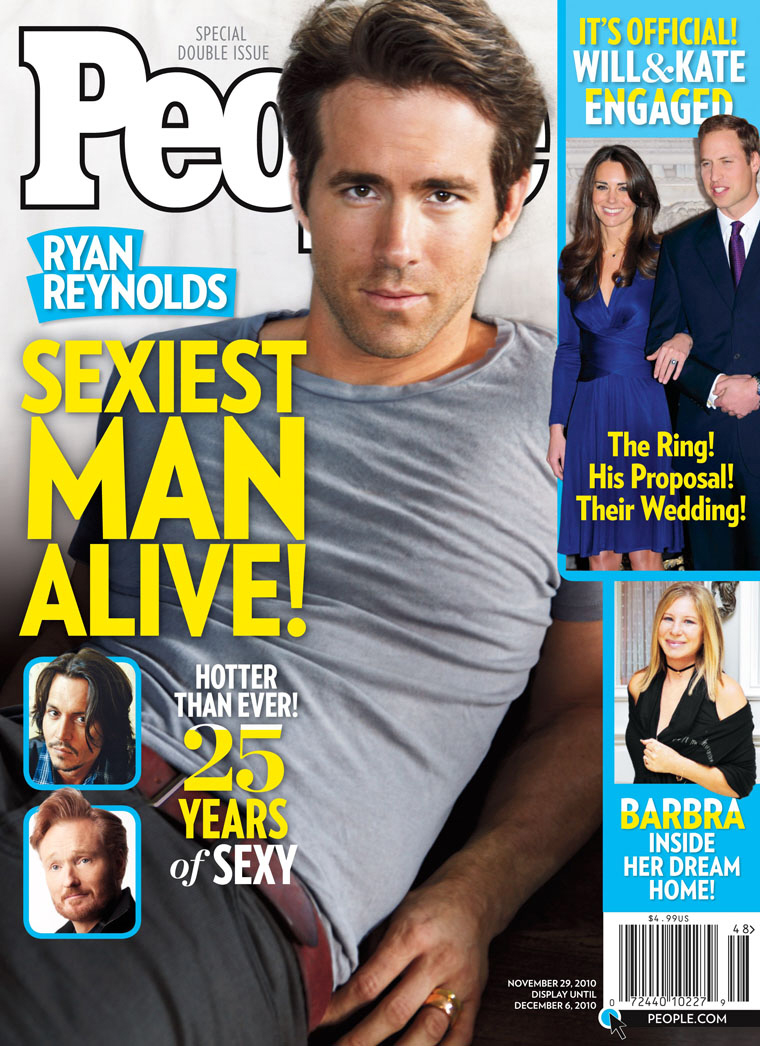 Just a few minutes ago, I emailed CB in anticipation of this year's unveiling on People Magazine's Sexiest Man Alive. My vote was for Jon Hamm, and CB agreed that he would be a good pick. So… imagine my disappointment when the SMA was unveiled. It's… Ryan Reynolds (cue clown music). Now, Ryan is cute, he's got a nice body, he's turning into a decent (not great, DECENT) actor. But I don't see the sex appeal with him. Granted, YES, I find men like Gerard Butler and Jon Hamm and Ralph Fiennes attractive. I like my guys dirty and gritty and maybe a little bit gross and serial killer-y. And in The Hamm's case, he's not only beautiful, but he can act circles around all of his contemporaries AND he's a real man, you know? Enough with the boys. Enough with PRETTY boys, with their orange fake tans and their manicured and sculpted bodies. Ryan Reynolds feels like a very safe "Patrick Dempsey" choice – sure, he's pretty, but do you ever find yourself fantasizing about Dempsey or Ryan Reynolds going to town on you in the middle of a work day? I don't.
Sure, his chiseled abs have caused millions to swoon, but this year's Sexiest Man Alive Ryan Reynolds loves to keep them laughing.

"My body naturally wants to look like Dick Van Dyke," says the 6'2″ actor, who suits up as the Green Lantern next year. "When I stop training, I turn into a skin-colored whisper."

We doubt that. From growing up the youngest of four brothers in Canada to being the funny guy in films like The Proposal, Reynolds has learned to take everything in stride. "You just have to go with the flow," he says of his new title. "This gives my family entre into teasing me for the rest of my life. "

The actor does expect a few new perks at home with his wife of two years, Scarlett Johansson. "Now it's going to be, 'Sexiest man, take out the garbage.' That does sound better," Reynolds says. "The most difficult part is going to be organically working this title into a conversation with random strangers."
[From People]
Note: there are two covers circulating, and on one of them, it's like "Hi, I'm Ryan, here's my crotch." On the other, it's like, "Hi, I'm Ryan, here's my pec" (see that one here, at People). On one, I see a very old photo of Brad Pitt, and a completely vanilla photo of Jake Gyllenhaal. On the other cover (the official cover), I see insets of Johnny Depp and … Conan O'Brien?!?! I agree with their inclusions on SMA, but I still feel let-down. Where's The Hamm? Where's The Franco? Where's The Gosling? Where's The RDJ? Ugh. Granted, they may all be on the list, but they didn't make the cover. Disappointing.
The SMA slideshow is here – the third photo (after Reynolds and The Hamm) is of KELLAN LUTZ. And he's shirtless. Kellan Lutz wants you to know that Kellan Lutz is shirtless in People Magazine, and Kellan Lutz knows you will enjoy Kellan Lutz's tweaked nipples. Ugh, Vin Diesel made the list too. What People editor was smoking crack?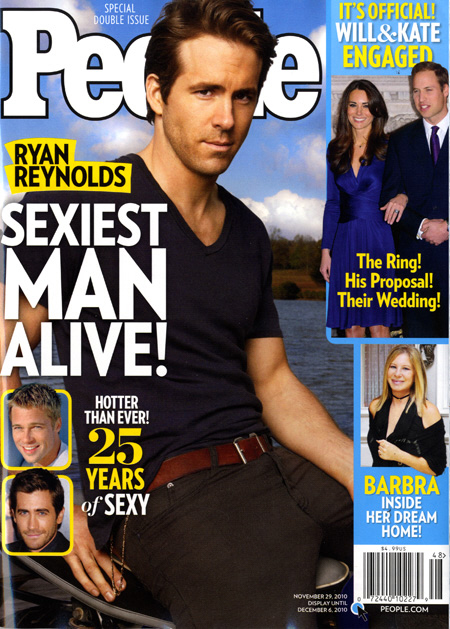 People covers and photos courtesy of People & CoverAwards.