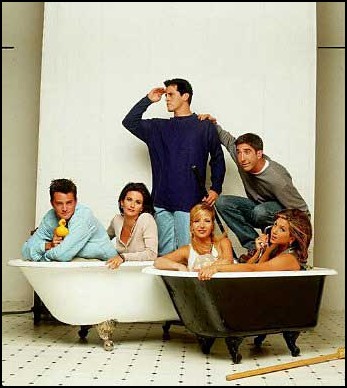 Rumors have abounded since Friends ended its successful ten year run in 2004 that the cast would make a movie. Every so often one of the cast members would admit they've been talking about it, but there was always one holdout, who no one would ever name. Sometimes they'd claim it was one of the guys, though it was often rumored to be Jennifer Aniston.
Supposedly they're really going to make the film now, inspired by the success (and I'm guessing the money) of the recent Sex & the City film.
The highly anticipated film production of TV series Friends has finally been given the go-ahead, MailOnline has learned. The actors have been inspired by the recent success of Sex And The City, which recently hit cinemas worldwide. A source said: 'Jennifer, Courteney and the rest of the cast are keen to reprise their roles, under the right circumstances.

'The box office success of Sex And The City has really got their wheels spinning about how a Friends film could be just as big, if done right. Timing and the script are really important, but now that Courteney and Jen both have production companies, they can potentially get very involved in those decisions.'

While Cox, 44, LeBlanc, 40, Perry, 39, Kudrow, 45 and Schwimmer, 41, were believed to be keen on the reunion, Aniston, 39, is believed to have dragged her heels. Now, however, she is keen to move ahead with the project, which will be produced by Warner Bros. 'She says she and Courteney have already talked this summer about what they want out of a Friends movie, and if deals can be made with them, everything else can fall into place rather quickly.
[From the Daily Mail]
It sounds like things are as close to happening as they've ever been. But when the same rumor has been floating around for four years, it's hard to tell when/if it's actually become legitimate. Even though Jennifer Aniston is probably the biggest star from the show, I think all of them could benefit from a successful film. The Daily Mail pointed out that Aniston has had a few okay movies, but she's still much better known for her personal life than her great movie career. And I'm pretty sure that at this point, Matt LeBlanc should take whatever he can get.
It seemed like there was a bit of a Friends backlash right after the series finale. Suddenly everyone was claiming they never found it funny. Television comedies have really moved in a different direction since then. There are very few traditional sitcoms left on the air – and almost none of them are filmed in front of a live audience anymore. It'll be interesting to see if people still find the show's brand of humor funny. Something tells me that no matter what, it won't compare to the financial success of the Sex & the City film.
Update by Celebitchy: A representative for Warner Brothers has denied that there's a Friends movie in the works, saying "(There's) no truth in the story." Courteney Cox and Matthew Perry's spokespeople have also denied that there's a Friends movie being planned. [Details From SFGate]