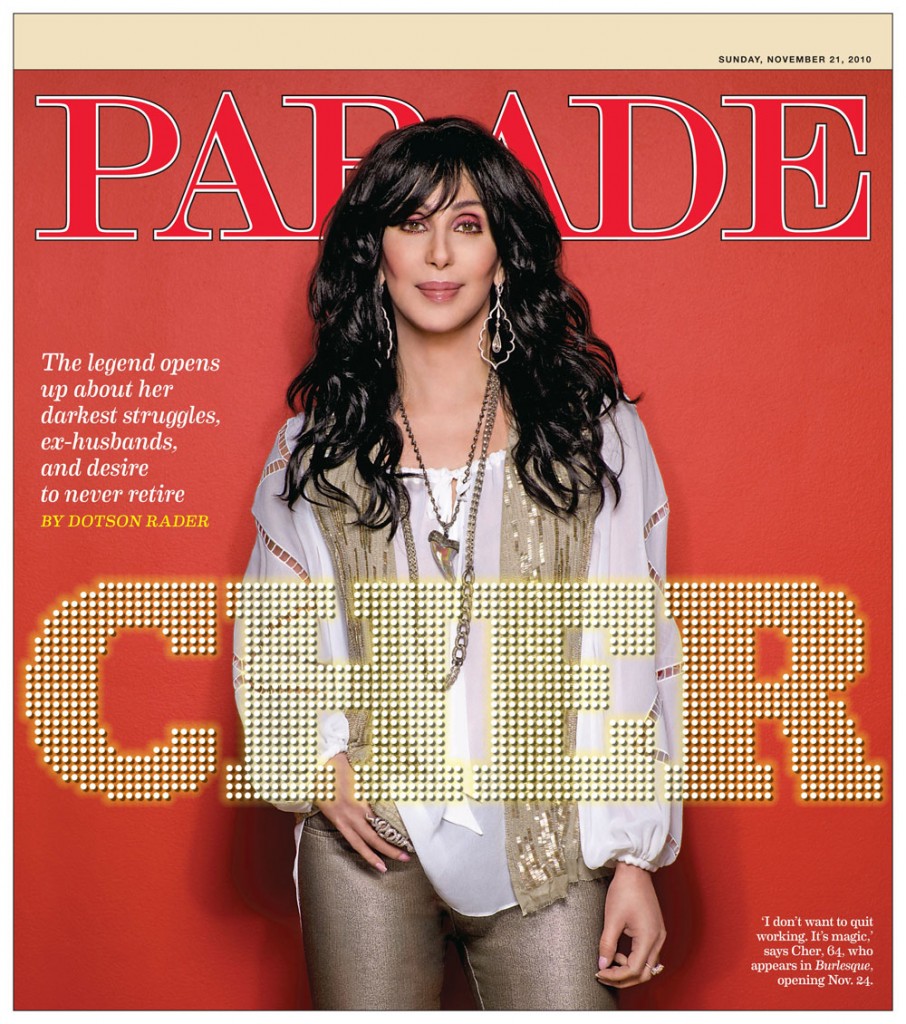 Parade has a new interview with Cher, and she appears on the cover over a red background and wearing peach-colored makeup that in no way flatters her. It could be worse, though. I'm impressed with how candid and open she is, which has pretty much been the case during this entire press tour for Burlesque. On the Late Show last week, Cher admitted to having slept with a bunch of male celebrities, including Tom Cruise, Eric Clapton, and Warren Beatty. In this interview, she explains that she "enjoyed them all… and was always happy when the next man came along." You go, Cher! She also has a new boyfriend, a 52 year-old screenwriter. She says in what I believe to be all seriousness that she's never been with a guy over 30 before. She's 64! Here's more:
On Chaz's gender reassignment
"When Chaz first told me about wanting a sex change, I had a really hard time with it," Cher says. "We talked about the transgendered thing intermittently for years. She was unhappy. Plus, she was doing drugs. [Chaz was addicted to OxyContin]. I believed that once she stopped drugs, she would have a much better life and put the transgender idea on the back burner." But after getting sober in 2004, Chaz became more determined than ever. "She said to me, 'If I'm ever going to do it, I've got to do it now. I'm 40,' " Cher recalls. "I went, 'If you've got to do it, dear, you've got to do it.' " In May, Chaz's gender and name were legally changed. "When I realized she was going to do it, it was rocky for me. I thought, What will the press do to her? What will they do to the two of us together? It's going to be the biggest nightmare that will not stop. But the press was kinder than I thought they would be."

"It's hard, 'cause she's still my girl. But she has an inner strength and she's a courageous person—she believes what she believes. She and her girlfriend came over for dinner last night. All of us were there, my boyfriend too."

On Sonny's control over her
"He didn't want me to grow up or have any freedom. I wasn't allowed to do anything except work. We worked more than we lived."

On Sonny Bono's cheating
"Stardom made Sonny a huge womanizer," Cher says. "One woman, or even five, was not enough for him. I found all this out afterward. I asked him, 'How did you manage the logistics?' I was trusting and faithful with him. The truth is, I'm not so sure we should've ever been husband and wife." Feeling trapped and depressed, she considered suicide. "I thought about jumping off a hotel balcony," she admits. "Then I thought, No, I can just leave him. When I told Sonny, he said, 'If you leave me, America will hate you and you won't have a job.' I went, 'You know what, Sonny? I just don't care!' "

On her second husband, rocker Gregg Allman
"Gregory was a Southern gentleman who also happened to be a heroin addict. I kept going to rehab with him to help him try to kick drugs. It was very hard for him. Then Elijah was born, and a year later I left Gregory for good. As crazy as I was about him, I wasn't going to let him be around my kids." Their son Elijah Blue Allman, now 34, struggled with heroin dependency, but he has reportedly been drug-free since an intervention organized by his mother in 2003. "Elijah's doing really well," she says. "He's a good artist, a painter. He's been asked by Louis Vuitton to design a label for them."

On dating Warren Beatty, Tom Cruise, Val Kilmer, and Richie Sambora
"I enjoyed them all! I never felt I chose badly, and I was always happy when the next man came along. I can usually last about two years with a man, and that's it. The moment the relationship goes into the phase of more commitment, it changes."

On her new man, Ron Zimmerman, a 52-year-old TV screenwriter she met online
"Even though I'm older than him, I'd never before been with anybody over 30," she admits, adding that Zimmerman is not her usual type: "Ron is short, a bit scraggly, like an absentminded professor. He's the funniest person I have ever met, and the most eccentric—so bizarre and kind and very special."
[From Parade]
I really appreciate how Cher has shared her struggles with Chaz's gender change but has remained supportive of his choice. You can tell that she loves Chaz no matter what. She's such a trip with the way she describes her past and dealing with Sonny cheating and trying to control her. I love how she seems totally over it and like she'll tell us whatever we want to know. I'm glad she's doing so well. This movie will probably flop, but that's not her fault. It looks cheesy as hell and has Christina Aguilera in it.
You can read more of Cher's interview on Parade.com, and it's kind of epic the amount of information she shares. Cher put out a memoir in 1998 called The First Time, and I think it's time she wrote another one.