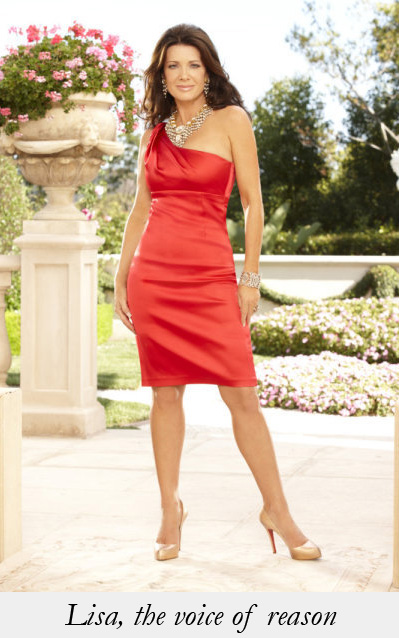 Spoilers for last night's episode of Real Housewives of Beverly Hills
I've never gotten into a previous Real Housewives season except for a passing interest in the New Jersey housewives, but the Real Housewives of Beverly Hills are fascinating. My favorite by far is 49 year-old British restaurant magnate Lisa, who is bitchy but fair with the ladies and has ended up narrating most of the shows.
This week, most of the housewives went with Camille to New York City to see her husband Kelsey Grammer's Broadway premiere of La Cage aux Folles. (Adrienne stayed behind to attend her uncle's funeral.) In NY, we saw an escalating feud between Camille and Kyle (Richards, one of Paris Hilton's aunts) that spilled over onto the other women.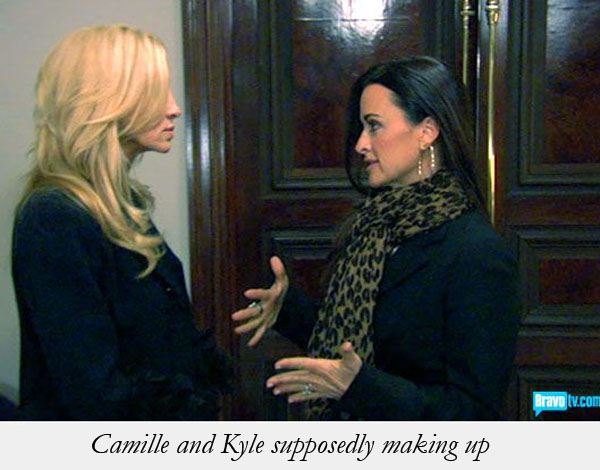 Camille vs. Kyle
Camille initially seemed willing to forgive Kyle over a perceived slight in which she insisted that Kyle asked her "why would anyone be interested in you without Kelsey?" Kyle maintains that she never said this, and that her innocent interest in Camille's trip to Hawaii without Kelsey was completely misconstrued. Camille kept needling Kyle about it over dinner with the other women in New York, even after she to seemed to forgive Kyle and make up. It was surprising how much Camille harped on it and seemed unwilling to let a minor incident go. In response, Kyle blew up at Camille and asked her sister, Kim, to back her up. Kim witnessed the discussion between Camille and Kyle and would presumably know whether Kyle actually said that to Camille. Kim is painfully shy, though, and she turned red and refused to get involved when Kyle put her on the spot.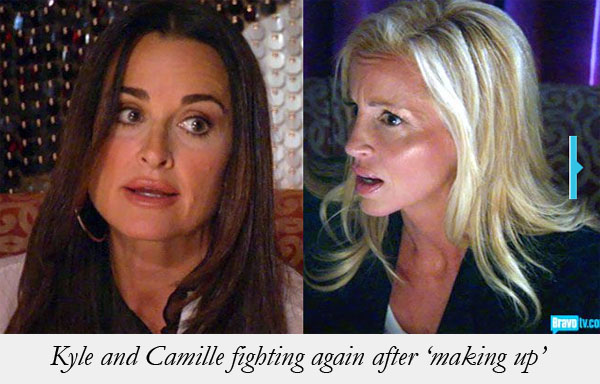 Kim vs. Taylor; Kyle vs. Kim
Camille seemed to think everyone was against her and got paranoid that they were calling her insecure behind her back. She left the dinner table, and then Kim accused Taylor of talking smack about Camille. Taylor got defensive and threatened to take Kim out back and "go Oklahoma on your ass". Kyle started crying over the argument with now gratefully absent Camille, and both Kyle and Lisa blamed Kim for not having Kyle's back.
At lunch the next day without Camille, Kim and Kyle continued to argue over whether Kim should have defended Kyle against Camille. Kim tried to give the ladies bracelets that her mother designed, but it didn't go very far to mend fences. Then everyone went to the premiere and to the after party despite all the tension over the simmering fights. It went fine and Kelsey seemed to be a calming influence on everyone.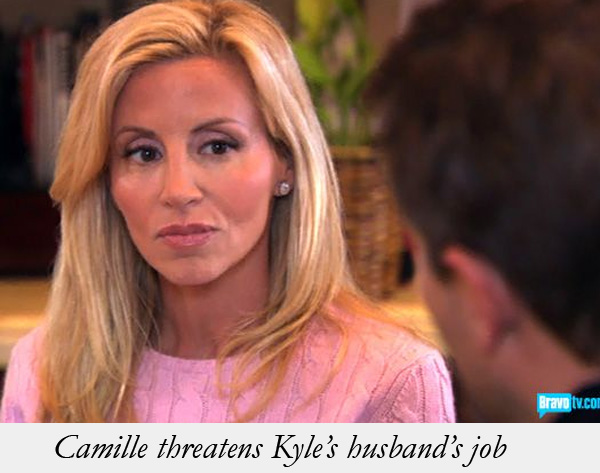 Camille is petty and narcissistic
Here's my assessment of this – Camille is the worst. She is surrounded by sycophants she pays to cater to her and she should have dropped this argument after Kyle apologized. Her behavior with the other women's husbands while they were in Vegas was despicable. She's incapable of relating to men without being flirty and overtly sexual, and she's incapable of relating to women without being petty and picking fights. She even threatened Kyle's husband's job after their argument, telling her hair and makeup people "[Kyle's] husband is a realtor. That's done… My husband is higher on the list, he's an A list celebrity. There's a big difference between that and the local Beverly Hills realtor… I don't think my husband and I can do business with them, knowing what his wife has done to me." (Kyle had previously told Lisa that she was worried that her husband's business would suffer since Kelsey was one of his clients.)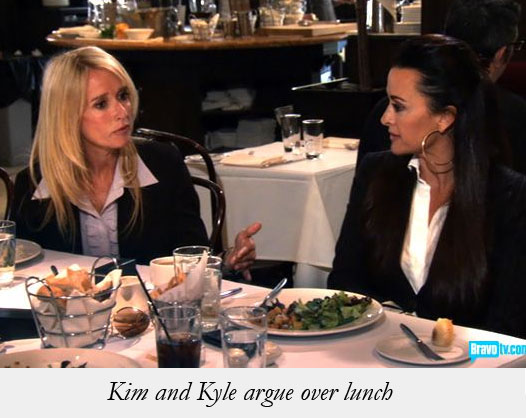 Kyle and Kim: sisters fight
As for Kyle and Kim, they have longstanding issues as sisters but their fights seem relatively normal to me. (I don't have a sister and might not be able to judge, but it's not like they're at each other's throats.) They need to stop blaming each other though. Kyle should have kept her anger in check with Camille, and she should realize that it's not in her sister's nature to get involved. Doesn't Kyle know Kim by now? She's uncomfortable in social situations. I'm surprised Kim is even on the show.
These shows should have a voting aspect to them where both the participating women and the audience get a say on who stays on. I think Kim and Camille should be the first to go. The prize for staying until the end should be a hefty donation to charity, and you know that Lisa or Adrienne would take home the crown.