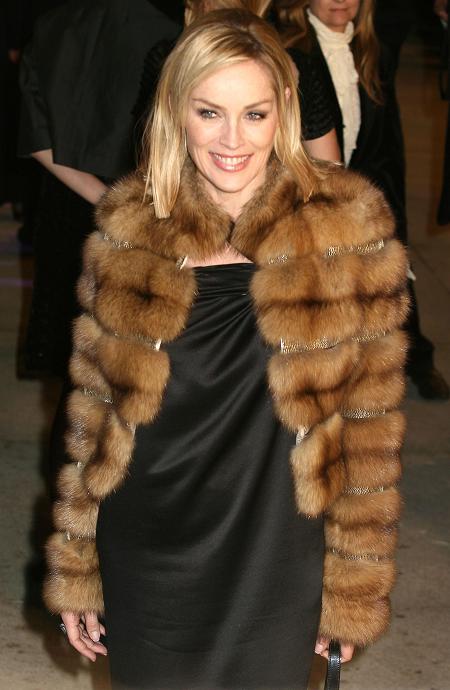 There is a really funny website that I adore called PassiveAggressiveNotes.com. It features real letters, notes, and postings people have sent in that are either passive aggressive, all-out aggressive, obsessive, or things that should just have been said outright instead of posted in a note. Ingrid E. Newkirk, the president of PETA, sent a letter to Sharon Stone two days ago, offering her a brain scan at PETA's expense. It seems they're pretty worried about the state of Ms. Stone's prefrontal region. I'm pretty worried about her whole brain, but the caring folks at PETA have thoughtfully narrowed it down.
I am writing with an offer that could provide an opportunity for you to escape all future public condemnation when you show insensitivity to the suffering of others.

Given that millions of people – including children – were killed, injured, and left homeless by the recent earthquake in China, everyone was shocked to hear you dismiss the devastating effects of this disaster. However, your cavalier attitude did not come as a surprise to us. We are used to the indifference that you flaunt and the callous remarks that you make about the suffering and death of the animals whose fur you wear so often.

Scientific studies suggest that the prefrontal regions of the brains of people who lack empathy might be underdeveloped. Here's our offer: Would you allow PETA to pay for a scan of the prefrontal region of your brain to determine if comments and actions that seem to demonstrate a lack of empathy are the result of a physical defect?

You don't have to be a member of Mensa to understand that the suffering endured by animals in the fur industry is supported by your desire to deck yourself out in fur. The type of thinking that would allow a perhaps otherwise intelligent woman to deny the cruel consequences of her actions can be established through a brain scan. We urge you to undergo this test at our expense. With help, you might be able to develop empathy and curb your urge to scoff at various forms of misery and violence. Please contact me to make the necessary arrangements.
[From PETA letter]
This is my favorite angry letter of all time. Offering to buy a famous celebrity a brain scan under the obviously fake guise of concern because you think she's a crazy bitch? Brilliant. You know the follow-up letter will be to buy Stone a needle and thread and pay to have her mouth sewn shut… for her own sake.
PETA can be pretty out there, but I dislike Sharon Stone above all other people. So I am fully in support of this brain scan. And if they can somehow get her locked into the mental ward while they're at it, I will gladly become a card carrying member of their organization.
Here's Sharon Stone at the Angel Awards in Los Angeles in August 2004. Header of Stone at Vanity Fair's Oscar Party in Los Angeles on February 25, 2007. Images thanks to WENN.