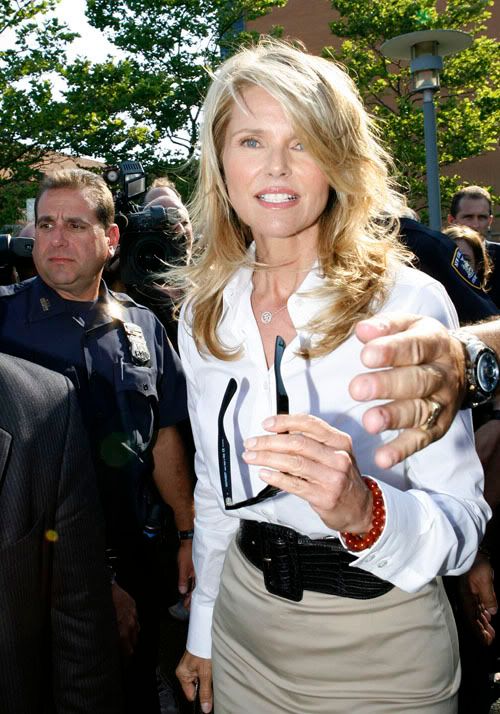 Christie Brinkley fought to have her divorce proceedings with her husband of 12 years, Peter Cook, made public. Her lawyer is said to have advised her to keep the details private out of concern for her two children with Cook, Sailor, 10, and Jack, 13. The trial is barely underway and Christie has learned that there's much more to her husband's wild ways than she assumed. She said of his shocking testimony that she "heard a lot of new things I didn't know" and needed "some time to let it all absorb."
Cook, 49, took the stand yesterday on the first day of court and started crying while he confessed to infidelity and an addiction to online porn. He admitted to webcam sex and to an affair with the 18 year-old he hired to work at the architecture firm he owned. Cook said he gave the woman he cheated with, Diana Bianchi, $300,000 last year to keep the affair private. To make it worse, Brinkley, 54, is said to be the one who paid for everything in their marriage:
Cook, who broke down crying after getting grilled on the stand today by the supermodel's lawyer, admitted he masturbated in front of a web cam and frequented escort, porn and swinger sites, all while married to Brinkley. He also admitted that he had sex with then-teenager Diana Bianchi in his office while she worked for him. He testified he gave Bianchi nearly $300k hoping to keep their tryst on the down low. He said he would leave money for her under a rock outside his office and more cash behind a painting. He also said he bought her a $2000 watch and lingerie.

Attorneys for Brinkley have laid out a sordid story of Cook's history — get a load of this stuff!

They've alleged, among other things, son Jack accidentally found porny pics of young girls on Cook's computer. The lawyers have also highlighted Cook's felony cocaine conviction and the time he served in jail.
[From TMZ]
Brinkley and Cook had a prenup and Brinkley will be able to keep her $30 million mansion. They are fighting over custody of their two children.
The other woman, Diana Bianchi, testified and said that Cook hired her to work at his office and gradually convinced her to date him. She says she sex with him about 10 times. They stopped seeing each other at the end of 2005.
Christie Brinkley's 22 year-old daughter from her marriage to Billy Joel, Alexa Ray Joel, also took the stand. She painted a picture of Cook as a controlling man with a mean streak and told a story about how he once pushed her head into a bucket to get her to clean up some water.
Cook admits spending $3,000 a month on porn in 2005, and said he often used porn to rev things up in the bedroom with Brinkley.
Lawyers for Cook tried to make Brinkley out to be a bad mother for working to make her divorce public:
Brinkley fought a bid by the children's legal guardian to close the trial to the public, and Cook's lawyer said the model was partly to blame for an unseemly spectacle.

"For goodness sake: She's on her fourth husband," Sheresky told the court. "Your honor, we're here because of the self-indulgent wrath of a woman scorned."

"What kind of a mother wants her husband flogged in public?" he said.
[From AP via Huffington Post]
Brinkley isn't the person who had an affair with someone 30 years younger and then try to pay them off to keep it quiet. Yes she was scorned, but it's stupid to complain that she wants her husband's awful behavior made public. She might regret it now, but the things he did were inexcusable and you can understand how she would react that way. It's a shame their kids are going to hear about it, though.
Christie Brinkley and Diana Bianchi are shown outside of court yesterday, thanks to Lisa Wagner at Splash News.