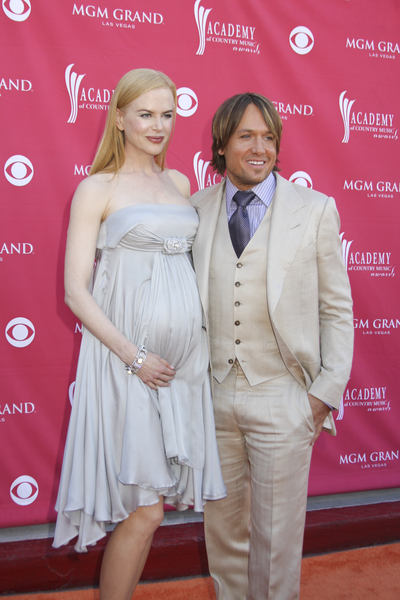 Nicole Kidman is one lucky woman. Not only did she somehow manage to gestate without ever having a belly that indicated anything more severe than a little bloating, but she'll probably come out of the whole thing with nary a stretch mark. And if her labor is as seemingly low-key as tiny as her pregnancy, she'll pop the kid out in under half an hour. And for all that, she'll get quite the "Thanks for having my baby" present from husband Keith Urban: a $73,000 Cartier ring.
With Nicole Kidman due to give birth in early July, Keith Urban has purchased a surprise present to give to his wife in the delivery room — a $73,000 Cartier Trinity ring! "It's three rings intertwined, so it's very symbolic," the insider says of the popular design, which is set with multi-colored pavé diamonds and is meant to represent the three stages of a relationship: yellow gold for friendship, rose gold for love and white gold for fidelity.

"It's three turned into one and that's how it will be with Keith, Nicole and the new baby," notes the insider. Cameron Diaz owns the same ring, as does Katie Holmes, who received hers for Mother's Day. The Trinity ring was created by Cartier in 1924 and is still one of its most recognized designs today.
[From In Touch]
It's a slightly odd choice given that Nicole's ex-husband's new wife has the same ring – but I'm sure she's not complaining. It really is a lovely piece of jewelry. I made the mistake of looking at it on Cartier's website – that can really get distracting. I would definitely be willing to have just about anyone's child for that. Joking. Mostly.
Nicole is expected to give birth anytime. She hasn't been specific about a date, other than that it's in early July. Though if I were her, I'd put a rush on it. Jewelry is totally worth it.
Here are Nicole and Keith at the Academy Of Country Music Awards in Las Vegas on May 18th. These are the only photos I could find of Nicole where she actually looks pregnant. Images thanks to PR Photos.