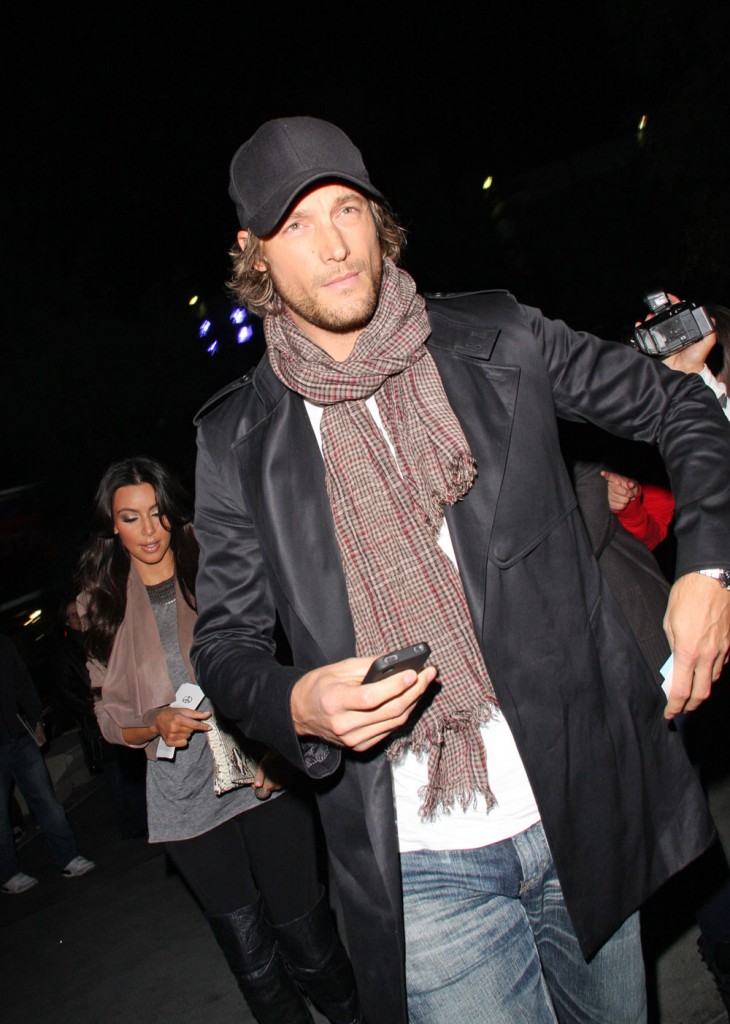 When Kaiser first sent me the link to these photos of Kim and Gabriel courtside at the Lakers game, I immediately started to go into denial mode. I told myself "well they were probably just sitting next to each other because someone got a good bank of tickets." Then I checked out the photos and I'll be damned if that doesn't look like a date! What's more is that they even went to the game together.
This smells like a publicity stunt from Kim, but then everything she does has the whiff of publicity stunt.
Last week, The NY Times had an article chronicling the many ways that Kim and her sisters have made a bundle of cash off their Kardashian brand. I just have to share these few paragraphs that really brought it home for me:
As her black SUV pulled up to the curb, precisely on schedule, it was as if another 100 had instantly materialized to document her arrival with cellphone cameras. She was wearing a black blazer with velvet panels, black Bebe leggings and her hair in a bun. Turning toward the cameras, she offered up her signature look — the head tilted slightly, lips apart, as if she had just blown a kiss.

The occasion was the introduction of a jewelry collection designed by Ms. Kardashian for Bebe, which is being sold alongside the dresses, leggings and tops she already designs for Bebe. This is a different jewelry collection from the one Ms. Kardashian announced last month, which she is creating with Pascal Mouawad and calls Belle Noel, and different from the jewelry collection she designed in February with Virgins, Saints & Angels. And the clothes are different from the dresses, leggings and tops Ms. Kardashian sells on QVC under the label K-Dash by Kardashian.

It is true that Ms. Kardashian, along with her sisters Kourtney and Khloé, and their mother, Kris Jenner, command a branding empire that includes fashion boutiques, fitness videos, credit cards, a best-selling fragrance, skin care products and a self tanner. Ms. Kardashian herself has represented many other products in advertisements, including some that a reasonable person might consider to be sending mixed messages. In one ad she promotes QuickTrim weight-loss products; in another, Carl's Jr. While it is not unusual for celebrities who are famous for being famous to aggressively capitalize on their exposure, Ms. Kardashian, who made her debut on the public stage in the form of a sex tape, stands out for the fact that she is generally still regarded in a positive light by many consumers.
[From The NY Times]
Kim has since scored yet another endorsement deal, for Skechers "Shape Up" shoes, those rocker type shoes which can potentially give you muscle problems if you try and go from wearing heels to wearing Shape Ups or similar "fitness" shoes with dubious claims.
I guess we know why Kim scores all these deals and is raking in the cash. As annoying and ubiquitous as she seems, she's still landing public dates with hotties like Gabriel Aubry. I hope he regrets it thoroughly and never steps out with her again. He could probably use the exposure too, though, which hopefully explains why he bothered to be seen with her in the first place. I think I speak for all non-Kardashian women of the world when I say "Gabe, you could do better."
Kim tweeted about the Lakers Game, but has made no mention of her gorgeous date either on Twitter or her blog.
Update: Life & Style reports that this wasn't a first date for these two, and that Gabriel has already met Kim's family. Please let this not be true:
Reality star Kim Kardashian has been living the single life in NYC, but now that she's home in LA, she's back in the dating game! Kim was spotted Sunday night at an LA Lakers game with Gabriel Aubry, Halle Berry's ex and the father of Halle's daughter, Nahla.

"Kim and Gabriel met a few times while they were both in New York, and there was definitely chemistry," an insider tells Life & Style about the pair. "But when Kim returned to Los Angeles last Thursday, they really took it to the next level. They went out to dinner, caught the Lakers game and spent time at Kim's house."

What does the Kardashian clan think of Kim's new squeeze? "He has already met Kris [Jenner, Kim's mom], as well as Khloé and Kourtney," reveals the insider. "They're all wild about him."
[From Life & Style received via e-mail]
Photo credit: WENN.com. Photos of these two at the Lakers Game are on Just Jared