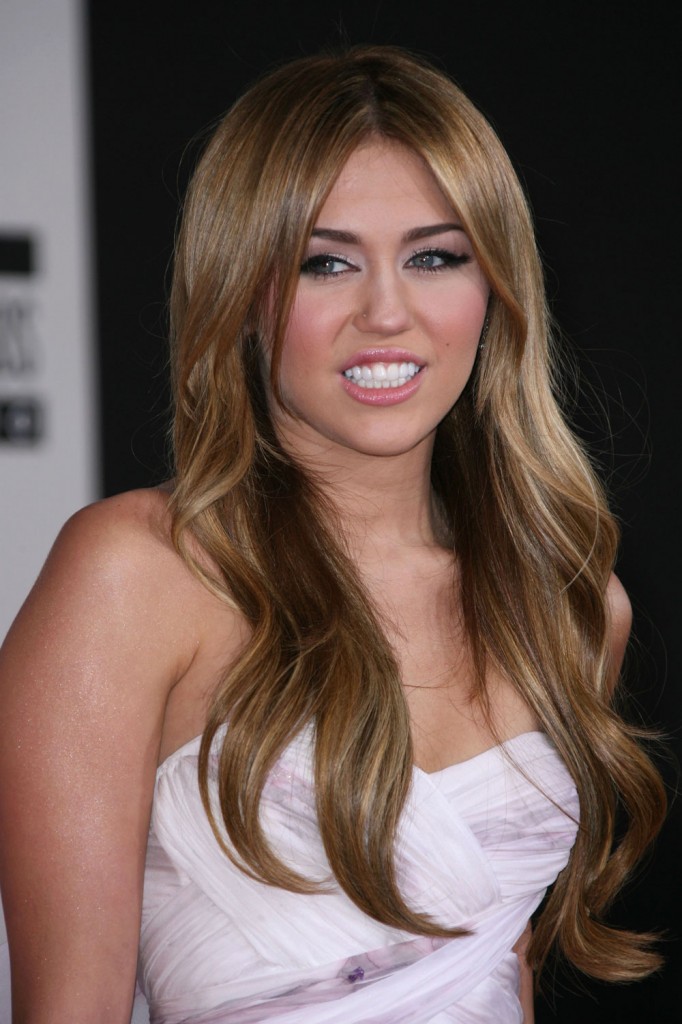 Miley Cyrus' 18th birthday is tomorrow, and she told Access Hollywood that she's going to celebrate with about a month's worth of parties, including on Thanksgiving, which is all about her. She also talked about how she enjoys playing the dance game Kinect on the X-Box with her mom, Tish. It sounds like Miley is spending more time with Tish now that her parents are getting a divorce:
She may not officially turn 18 until Tuesday, but Miley Cyrus said she was kicking off her birthday celebrations early, following up the American Music Awards by hitting the dance floor with her mom.

"I'm going out dancing later — we rented out a space so all my friends can come," Miley told Access Hollywood's Shaun Robinson on Sunday at the 2010 AMAs, when asked about her birthday plans. "Me and my mom actually have choreography for the night later — everyone loves when we dance in unison."

In addition to her rigorous performance schedule, the "Party in the USA" singer said she regularly gets plenty of dance practice in by competing with her mom, Tish Cyrus, playing Xbox 360's dance video game, Kinect.

"There's one [move] where you do like, the fist pump. You 'Jersey Shore' it for a second!" Miley laughed. "We got a bunch of moves going on. Everyone goes wild when me and my mom have choreography, so it's going to be good.

"My mom, she beats me at that game!" Miley added. "She had 600,000 points yesterday, I had 300,000. She is such a good dancer — she really gets it."

In addition to Miley's motherly dance-off, the young star plans to keep the festivities going all month long.

"I have a birthday month," Miley told Shaun. "I do the whole month of November. Thanksgiving, cake – [it's] all about me on Thanksgiving!"

As for Miley's AMA performance, the teen queen said she drew inspiration for her ballad, "Forgiveness and Love," from a seemingly unexpected source – The Beatles.

"I was listening to a lot of the Beatles and I love how they encouraged their fans to go out and, you know, you get so inspired listening to their records," Miley told Shaun. "You want to forgive people. You want to tell people about peace and love and so that's what I want to do.

"I want to inspire my fans to have forgiveness and to love others," she added.
[From OMG.Yahoo.com via Gawker]
That's interesting that she chose that song. Reports have Miley nixing earlier plans to sing a Bret Michaels' song, Every Rose Has its Thorn. Miley's mom is of course rumored to have had an affair with Michaels, which he denies.
Meanwhile Miley was seen kissing an 18 year-old Canadian actor after her AMAs party last night. Just Jared has the photo of the guy, Avan Jogia, laying on top of Miley on some stairs and kissing her neck. Miley doesn't look into it, but it's hard to tell. Will she go completely off the rails now that her parents are getting a divorce and her mom is more of a best friend than a parental figure? (Which can probably be said about her dad, too?) You hope not, and I have to say that she seems like she has her act together despite all the tiny leotards and grinding performances. That mullet dress at the AMAs isn't doing her any favors though.
Here's Miley performing "Forgiveness and Love" at the AMAs. Her dress is actually very demure.