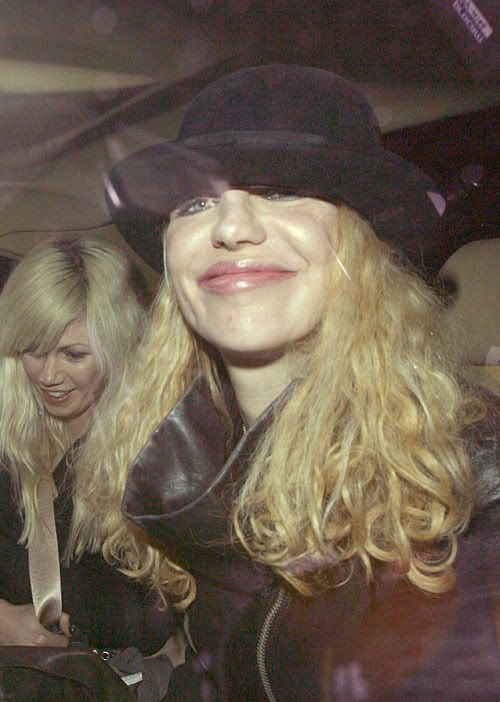 Courtney Love has always been a bit what kind people would call eccentric, but what I'd like to describe as completely crazy. Now, she's given us an explanation – she has an alter ego, another personality, named Cherry Kookoo.
This is what she had to say on her blog.
just want to hank allyou supportive lovely people and thank you for putting up with my kookoo bananas alter ego should; we give her a name?
shoudl we give my alter ego a name? hmnmmmm Cherry! "Cherry kookoo" so if /when im overcome and blog again wich i wont do i took a picture of a friend looking at me rather sternly to remind me not to- well know it was Cherry Kookoo, but i think I've killed her off.
back to my shopping basket! Your support means the world to me i read every comment!
rock on
The previous blog entry authored by Cherry Kookoo talks about Courtney's credit issues (someone has been using the Cobain name to purchase property), her broken toes, her computer being used by hundreds of other people, Mrs Haversham and making slippers.
Since I'm a little off color myself today, having indulged in too much cold medication, I'd like to write my own comment in the style of Courtney.
Courtney, we freakin' love your bLog here ad it is really great and I'm completely confused as to what is happening with the Kurt Cobain identity theft because how can you buy stuff when the guy is dead? Like really publicly dead not like some guy who died that no one had ever heard of or anything? Really shocking on the part of the lenders.
For more of this kind of rant, check out Courtney's myspace, which features her ramblings that I am utterly confused by, but somehow make me really look forward to her new album, which should come out shortly after Chinese Democracy by Guns 'n' Roses.
Courtney Love is shown out on 4/8/08 showing the contents of her purse. Thanks to Spirit/WENN.