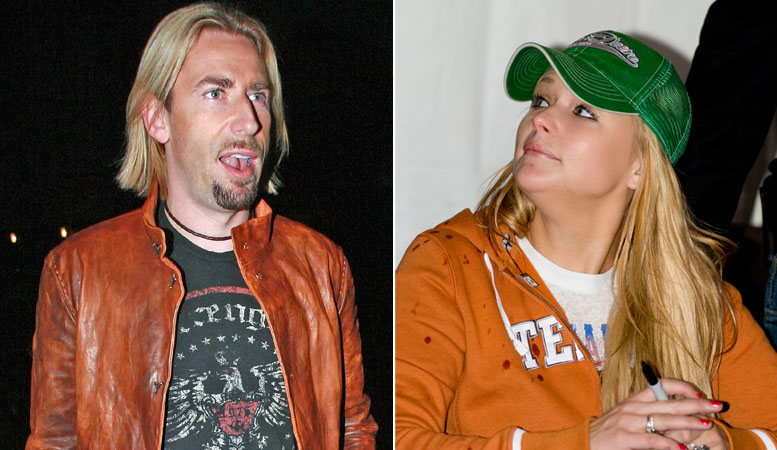 These aren't really big name stars, but this story cracks me up. Take it with a grain of salt.
Us Weekly is reporting that country singer Blake Shelton and Nickelback singer Chad Kroeger nearly got into a fight at Miranda Lambert's birthday party.
A battle broke out at Miranda Lambert's 27th birthday party at Winners Bar & Grill in Nashville November 10, when the singer refused to do shots with Nickelback frontman Chad Kroeger, 36. "Chad kept persisting, and Miranda said no," says the witness. "He responded she 'didn't have to be a bitch about it.' Then she grabbed the shot and threw it in his face!" Soon after, Lambert's fiance, fellow country star Blake Shelton, 34, jumped in to attack Kroeger. "But people kept Blake away," says the insider.
[Us, print edition, November 29, 2010]
Blake's rep denies there was a fight, poetically responding, "No fists were thrown. Blake is a peacekeeper and doesn't start fights."
Well, technically, the Nickelback guy started this one by acting like a drunk douche. Blake was just defending his girlfriend's honor.
If this fight had happened, I'm not sure who would win. I'd probably give the edge to Blake, even though Chad is 6'1" and scary looking. But Blake is a whopping 6'5" and had the motivation of not wanting to get his butt kicked at his fiancee's birthday party.
Speaking of, what was the singer of Nickelback doing at Miranda Lambert's party anyway, besides annoying the birthday girl?
Miranda Lambert and Blake Shelton are shown performing on 6/13/10 and at the CMT awards on 6/9/10. She's also shown in the header in October, 2009. Chad Kroeger is shown on 5/19/09. Credit: WENN.com