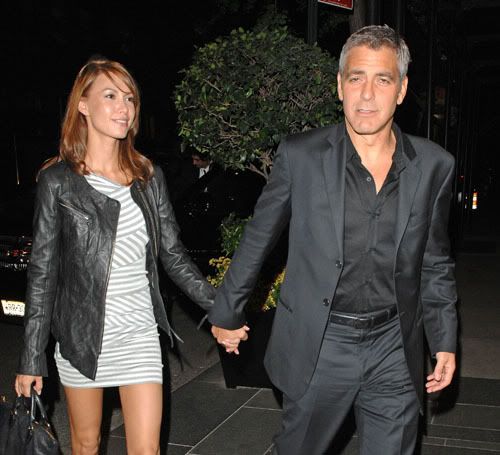 I got the chance to read Sarah Larson's full interview with Hello! Magazine and it has a couple of gems that I haven't read elsewhere. Other outlets focused on Larson's claims that she's still friends with Clooney, that she will miss his "extraordinary dance moves," and that she in talks for a lucrative modeling contract. There are some more things she said that are interesting enough on the surface. She strikes me as bland person despite what she's accomplished in life – winning Fear Factor, earning plenty of money as a cocktail waitress, and scoring a date to the Oscars with Clooney.
On the photos of her bikini wrestling in Vegas: I was working
"I wasn't shocked when those pictures taken of me in Vegas surfaced," says Sarah. "I knew once I started dating George they'd come out, so I showed them all to him before they were published as they were posted on various websites. Most of them are of me working. All the girls I worked with were my friends so we got paid to have a great time together. I think it's funny that they are made out to be scandalous. My thoughts on them… 'so what?'"
[From Hello! Magazine, print edition, July 14, 2008]
There aren't many people who get paid to get on all fours in swimwear, to wrestle with women, or to have men lick their feet. The jobs that usually involve those type of paid activities are legal in the state of Nevada, but are technically not allowed in the city of Las Vegas. I'm not saying that was involved in her job, but you can see how people would get confused as to what it is she did exactly.

On how she got into cocktail waitressing although she has an undergraduate degree in microbiology
"I worked there [at a homeopathic medicines company in Vegas] for about a year but it wasn't paying my bills," she says. "So I started modeling and that led to cocktailing." It was, she admits, a big leap from the world of alternative medicine to the service industry. "Sometimes I feel I had two different lives. I like the fact that I have this obscure degree that people don't see me as having and I can pull facts out of the air and shock people every now and then."
Good for Larson for going to college and I would not have expected that from her. She didn't give an example of any supposedly shocking facts she knows about microbiology or homeopathic medicine, though. In fact I haven't heard much that's all that interesting or unique from her.
On not needing a man to be fulfilled
"I don't need a man to make me happy. I think you should be happy on your own and if you find someone who complements that happiness then that's a great thing… I like a guy with a good sense of humor, have their own way of thinking, [sic] and be mature enough to communicate in a relationship."
On using her fame "for something good"
"Eventually I'd like to start my own business and fade into the background," she says. "I think fame is only appealing if you can use it in ways to help people. I've never had the desire to really want fame, and not that I have it I'm trying to use it for something good."
Before we all scoff at Larson's charity lip service, Hello! does say that she has "spent the last four years volunteering with AFAN (Aid for AIDS in Nevada)"
At least she knows her 15 minutes are up and says she's ready for it. This interview with Hello! was her last hurrah and she doesn't have delusions otherwise. She'll pop up occasionally in LA and get her photo taken at some paparazzi hot spots. We may see her in some print ads. Either way, she's over but she's doing fine.
I wonder when exactly Larson showed Clooney those pictures, though. Was it before or after that motorcycle accident they were in together last September? There is no way this girl would have stuck around for so long if that didn't happen. My sister in law had a theory that Clooney kept her around until the statute of limitations on suing him ran out, but that would have been two years and Clooney held out for less than a year.
George Clooney and Sarah Larson are shown below at the Michael Clayton premiere on 9/24/08, a few days after their accident. Credit: PNP / WENN. Inset image: at the 2008 National Board of Review Awards at Cipriani on 1/15/08. Credit: Flashpoint / WENN. Header: on 5/5/08 out for dinner in NY. Credit: Ron Asadorian / Splash