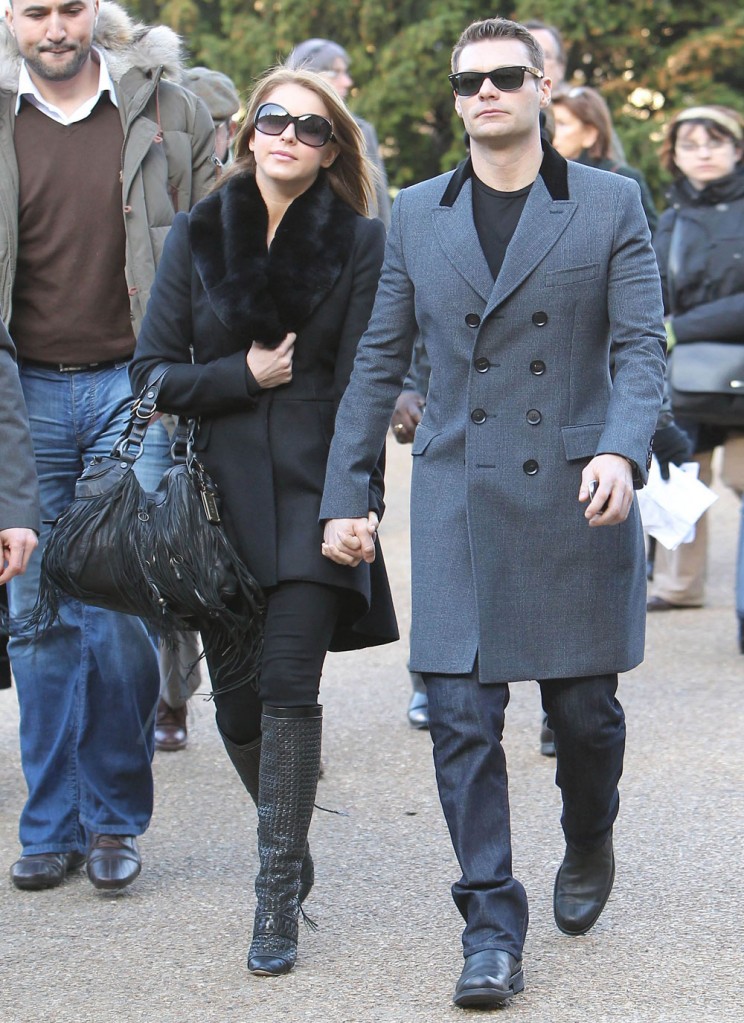 According to the National Enquirer, Ryan Seacrest and Julianne Hough are taking their fauxmance to the next level. They claim that Ryan, 35, proposed to Julianne, 22, during their well documented Paris jaunt and she accepted. The Enquirer's gossip guy, Mike Walker, name drops Seacrest practically every week with the most insignificant gossip. If anyone would get an exclusive on Ryan's engagement, it would be the Enquirer. I know a lot of people think Ryan bats secretly for the other team, and the way the whole "kiss on the beach with Teri Hatcher" played out (particularly the way she explained it) make me think that could be the case and that he plays the media to his advantage. It's possible that he is straight and just very fussy, though. It happens. I could also see him going for a much younger non-challenging partner like Julianne. (If he goes for chicks at all, other than in photo ops.) Here's the Enquirer's report. It's like Ryan took a page out of Tom Cruise's book.
The "American Idol" host surprised the "Burlesque" star with a proposal during a recent vacation to Paris, sources say, and he's even cutting back his workload to start a family!

"Ryan is ready to make Julianne his bride, but he wanted to blow her away with the most romantic proposal possible," an insider divulged.

"With only a few weeks before 'Idol' is back on TV, he organized a quickie trip to Paris and invited his sister and his parents along so they could share in the happy occasion…"

To prove how serious he is about building a solid future together, the ambitious go-getter is scaling back on work, the insider said.

"Ryan is planning top opt out of renewing the contract for his syndicated radio show," said the insider. "Julianne has transformed him from a work machine into a love machine."
[From The National Enquirer, print edition, December 13, 2010]
"Julianne has transformed him from a work machine into a love machine." Are you kidding me? This is just spin control for the fact that he's not going to continue with his radio show for whatever reason.
You know, if they're both happy with this arrangement, whatever it is, good for them. Congratulations on their engagement whether it's for show or not. I can't see any self-respecting woman going along with this (if it's not real, etc) but Julianne did get to go to Paris and I bet she dropped a lot of Ryan's cash on nice designer things. I also bet he helped her pick them out. And I swear to you – I wrote all that before I saw these photos of them buying Louboutins. Hand to God, to borrow a phrase from Kaiser. (I thought Ryan was staring at the shoes, but he's entranced with his own reflection. I think we know who his real love is.)
Update: Julianne's brother, Derek Hough, says that as far as he knows his sister isn't engaged.
Photos are from 11/26/10, thanks to Fame.