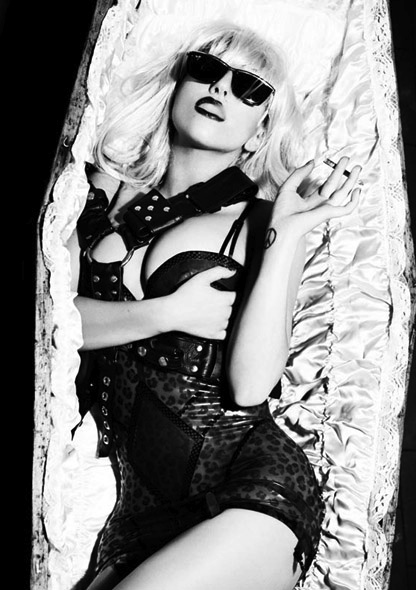 On Friday we heard that Alicia Keys' "Buy Life" campaign to raise a million for her Keep a Child Alive AIDS charity, had raised less than a 1/4 of its goal of one million after three days. As part of the campaign, celebrities including Lady Gaga, Ryan Seacrest and Kim Kardashian pledged to die "digital deaths" and stay off Twitter and Facebook until a million was raised. When I checked yesterday, just 1/2 a million had been raised since the campaign begun last Wednesday, December 1. Some outlets pointed out that Usher was the only celebrity to break rank and start to tweet again prior to Buy Life reaching its goal.
Today, the BuyLife.org website suddenly jumped from 1/2 a million raised to a little over a million. Now doesn't it seem suspicious that it took them over five days to raise the first 1/2 million but that they were able to raise another 1/2 million in under a day? When I checked last night they were just over $500,000 but less than a day later they've suddenly reached their goal. Now, I think it was a noble cause, but as we covered earlier it was executed poorly. Instead of just calling time on this campaign it looks like they've fudged the numbers a bit. (Or maybe the celebrities got itchy fingers and pitched in the dough themselves.) Someone overestimated the amount of money that people would pay to be privy to the mundane thoughts of a bunch of overpaid narcissists. Usually we just get it for free. The silence was nice while it lasted.
Update: Thanks to Michael for sending me the tip that the campaign was saved by a wealthy benefactor, "Brooklyn-born billionaire pharmaceutical executive Stewart Rahr" who chipped in $500,000 to restore the celebrities' "digital lives". According to the NY Post, "Celebrities were so frustrated with the time it took to raise $1 million for Keep a Child Alive's "Digital Death" campaign, they persuaded a wealthy savior [Rarh] to give them $500,000 so they could get back on Twitter." I guess we can't expect them to pay for it themselves, now can we? Keys' husband can't even pay his taxes.