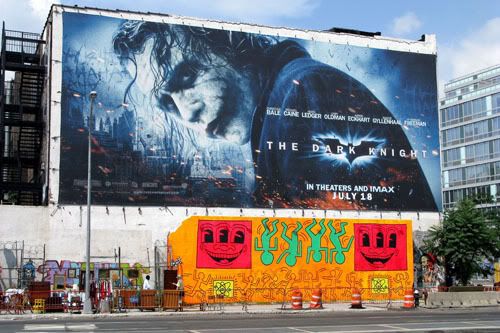 Aaron Eckhart and Maggie Gyllenhaal were on Good Morning America The Today Show this morning to promote their upcoming film The Dark Knight, which opens Friday and has morning shows starting at 12am selling out around the country. It's getting widespread critical acclaim, particularly for late Heath Ledger's harrowing performance as the joker.
Matt Lauer brought up the subject of Heath's performance and said it's too bad that he's not here to accept all the kudos and accolades for one of the best performances of his career.
Maggie Gyllenhaal was understated and kind in her response. She said "He's so incredible in the movie and it's so terribly sad that he's not here that it's difficult to really feel how sad that is in the midst of all these TV shows and cameras. It's like you have to protect yourself a little bit because it's such a shame."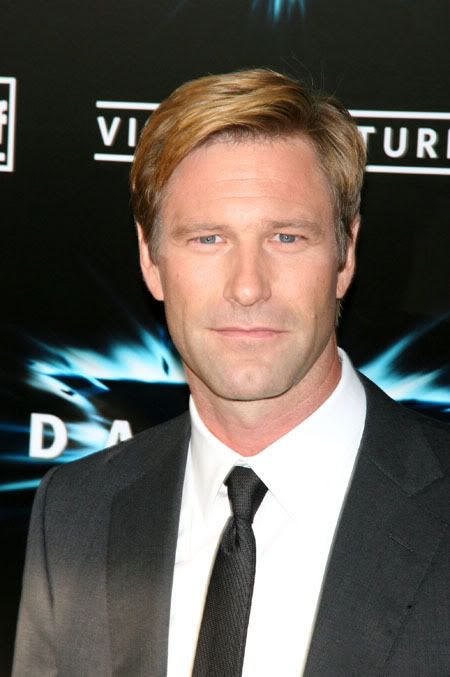 Aaron Eckhart said that he met Heath's mom at the after party and that "she was very upbeat, very proud." Eckhart told her a story about how Heath Ledger's friends now have his old iPod and are passing it around and sharing his music.
He said "Whenever we went into the trailer we would say 'Whose iPod is this?' because it would be some whacked out music that nobody had ever heard of before, and it was Heath's and that iPod has since become a symbol of Heath and his friends pass it around to each other, download the music and then pass it on."
Director Chris Nolan said that Heath did get to see some of his performance before he died. He said "He saw the IMAX prologue. We [screened] that for him in London."
I wonder what kind of music Heath was into and if we'll get any details about what he kept on his iPod. It's kind of a nice memory to have someone's music and that's touching that his friends are sharing his iPod.
Header: An ad for The Dark Knight starring Heath is shown in New York City above a Keith Haring mural. It's two blocks from the apartment where he died. Aaron Eckhart and Maggie Gyllenhaal are shown at The Dark Knight premiere on Monday. Credit: PNP/WENN