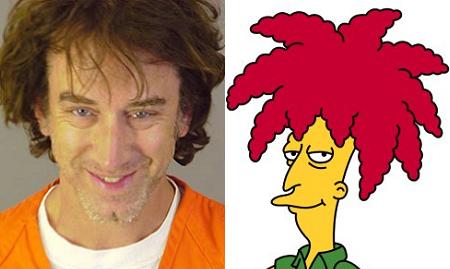 "Actor" and "comedian" (I use both those terms really, really loosely here) Andy Dick has got to have one of the longest, most bizarre rap sheets in all of Hollywood. The Q-list actor was once arrested for mooning people at a McDonald's; has exposed himself at a Canadian comedy club (to be fair, so have I); was forcibly removed from Jimmy Kimmel Live after he repeatedly groped Ivanka Trump… the list goes on. And those are just a few of the non-drug offenses. I can't even begin to give the highlights from that section of Dick's rap sheet.
Now Dick has a few new charges to add to his ever-growing attorney's fees. And a picture that makes him look just like Sideshow Bob.
Wacked out crazy comedian Andy Dick was arrested early this morning in Murrieta, Calif. on suspicion of drug possession and sexual battery.

Cops busted the 42-year-old Dick just before 2 AM this morning in the parking lot near a Buffalo Wild Wings restaurant. Dick is still being held, his bail set at $5,000.

Around 1:15 AM this morning cops tell us they responded to a report of a person peeing in the parking lot outside the wing joint, causing a disturbance.

Once there, they stopped a van and found Dick in the passenger seat. He was arrested for allegedly groping a 17-year-old girl's breasts and pulling her top down.

When he was searched, cops say they found weed and one Xanax in his front pants pocket.
[From TMZ]
I'm pretty sure it's safe to say that Andy Dick is the sleaziest guy in Hollywood. True, you don't hear about him as much, so there are definitely guys out there that whose reputations are better known. But when you go through the list – and see how many of his incidents are sexual in nature – it sure makes the guy look pretty damn disgusting. From what I can tell, he hasn't done much significant time for any of his infractions – though he has said this about his jail experiences:
"…getting arrested isn't too bad, since I'm a bisexual, I don't have a problem with angry men having sex."
[From Wikipedia]
Considering Dick is still in jail on only $5,000 bail, he might want to consider giving a crap about his image and not being such a sleaze bag so he can get some work.