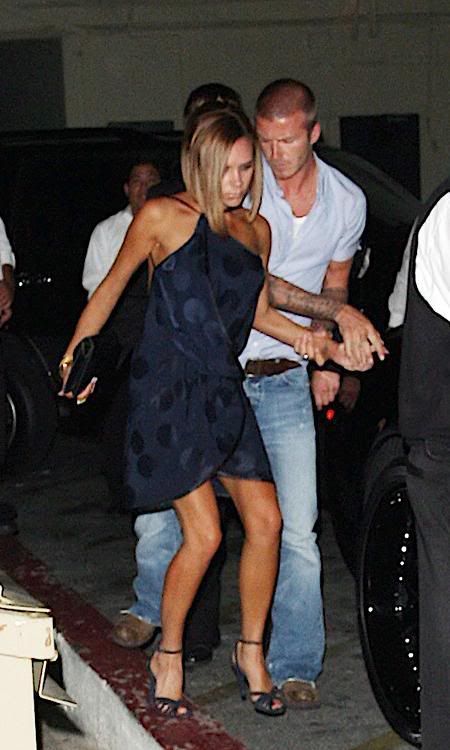 Frantic – absolutely frantic – rumors have been floating around the interweb for the last couple weeks that Posh and Becks aren't happy in America – specifically Los Angeles – and planned on relocating asap. Absolute panic ensued. At least for the paparazzi and Us Weekly. Okay, and maybe a few bloggers. Thank God OK! Magazine is here to help. They had an important heart-to-heart with David Beckham (and by that I mean they checked out his webpage) who assured them the family loves L.A. and would never consider moving. You feel that? Yeah, that's your pulse slowing down as you stop panicking. Happened to me too.
Rumors having been floating around lately that David and Victoria Beckham are miserable living in L.A.. Just this morning a story in the British press said that Posh and Becks's dream of making it in the US is "in tatters" and that they have been bickering about how to escape.

Well, the gossips must know something that David doesn't, because today he said that, far from being homesick, the Beckhams feel "settled" in the States and "can't imagine" being anywhere else! …It seems like only a few weeks ago I arrived in Los Angeles with my family ready for the next chapter in our lives," he wrote on his website this morning…. A year later and we feel so settled here, everyone loves California and everyone has made us feel so welcome.

"I can't imagine being anywhere else in the world right now."
[From OK! Magazine]
That was easily the closest I've ever come to getting sick to my stomach from celebrity-induced relocation panic. What in the world would happen if the Beckhams moved back to London? It's practically the same thing as dropping off the face of the earth! So now that we're all calm and cool, here are some pictures of David looking pretty.
Here's David with son Brooklyn leaving Madeo restaurant in L.A. on Tuesday. Header of David and Victoria Beckham leaving Il Sole on Monday night. Images thanks to WENN.