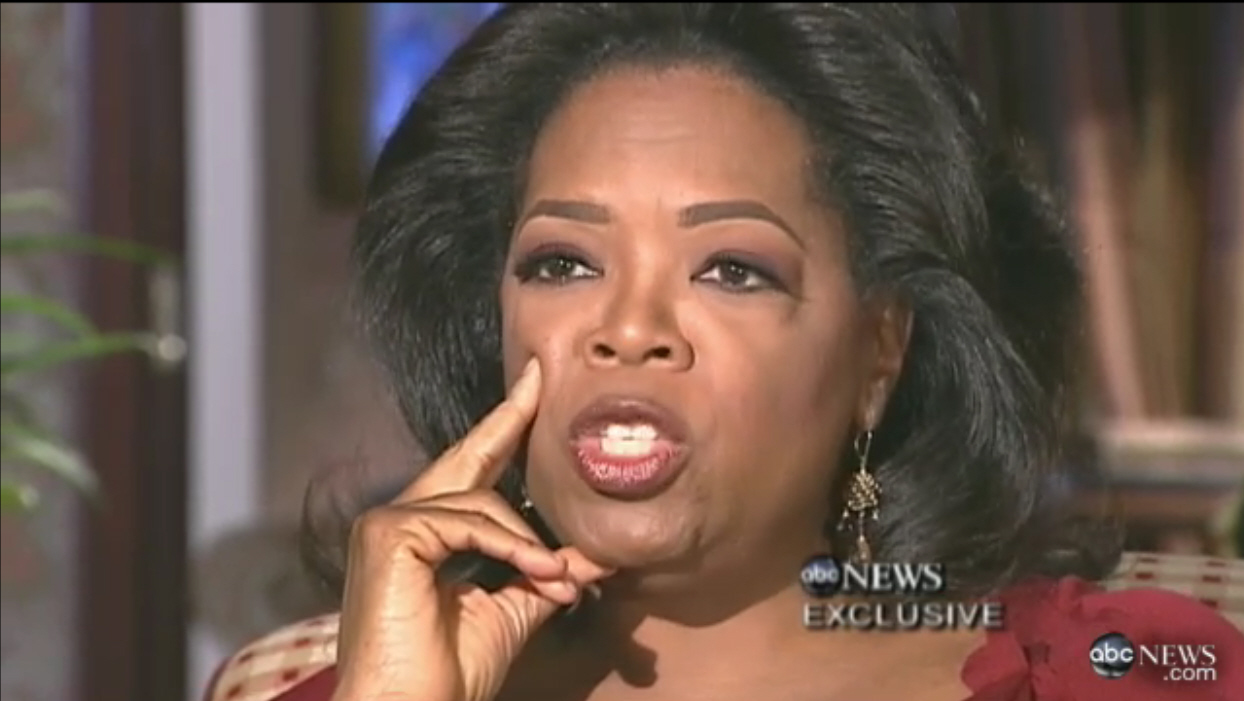 Did you know that Oprah sat down for an "exclusive" one-on-one with Barbara Walters? I kind of get a kick out of that. Babs is old as dirt, and she's really not a good interviewer (at all), but when Oprah wants to do press, she goes to Babs. Anyway, details about their interview have been leaking out for the past few days (ABC News has done the leaking), and apparently, Oprah let Babs ask her ANYTHING. Including questions about those lesbian rumors.
The rumors have been around for years. She even made light about them recently. But Oprah Winfrey has once again stated flatly: "I'm not a lesbian."

"I'm not even kind of a lesbian," the talk-show queen, 56, tells Barbara Walters in an upcoming interview on ABC. "And the reason why [the rumor] irritates me is because it means that somebody must think I'm lying. That's number one. Number two … why would you want to hide it? That is not the way I run my life."

The rumors have focused on Winfrey's friend Gayle King. But Winfrey says that relationship is extremely close in a whole different way.

"She is … the mother I never had. She is … the sister everybody would want. She is the friend that everybody deserves. I don't know a better person. I don't know a better person," Winfrey says while choking up.

"It's making me cry because I'm thinking about … how much … I probably have never told her that. Tissue, please. I now need tissue. I've never told her that."

The occasion for the interview, airing Thursday at 9 p.m. ET on ABC, is the end of Winfrey's syndicated show next May and the beginning of her new cable network – OWN, The Oprah Winfrey Network.

On that subject, Winfrey admits to having been afraid of how daunting the new project is. "I was very scared," she says. "I would wake up in the middle of the night literally like clutching my chest, like, 'What have I done? What have I done?' "
[From People]
Do I believe this? Eh. Part of me thinks that if Oprah was a late-in-life lesbian, she really would talk about it. Another part of me thinks that she would get it on with Gayle if it didn't involve Oprah's issues with germs.
Here's the video of Oprah getting choked up talking about Gayle:
And here's video of Oprah talking about endorsing Obama, and her thoughts on how he's doing now, and her feelings on whether Sarah Palin is qualified to be president (hint: she doesn't comment on the last one).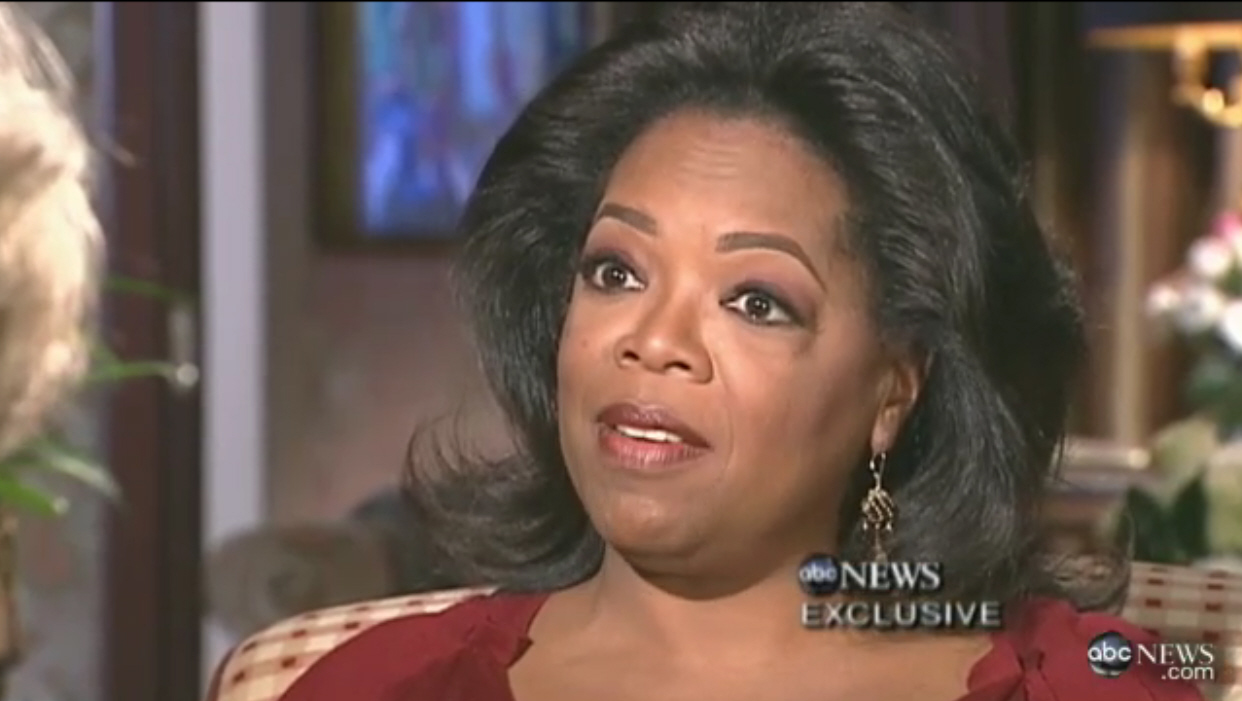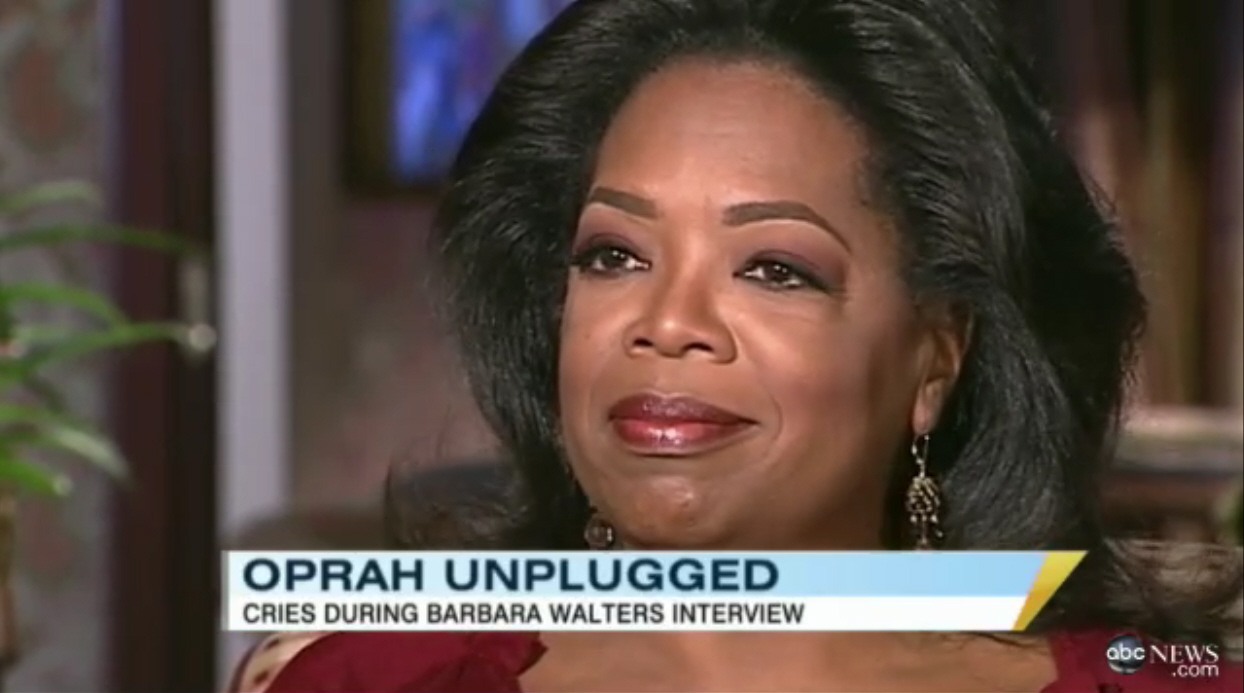 Screepcaps from the interview.