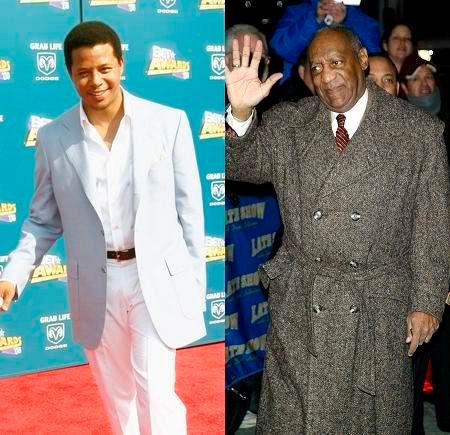 Oscar nominee Terrence Howard claims that Bill Cosby once blacklisted him. As a brash 19-year-old, Howard had a confrontation with the legendary Cosby, and says he didn't work for four years after that. Terrence went on to star in Hustle & Flow, for which he was nominated for an Oscar.
Oscar-nominee Terrence Howard almost destroyed his promising acting career when he was axed from The Cosby Show. The Crash star landed his first acting part in the legendary comedy show in 1988 – but he was sacked before any of his scenes were aired.

He explains, "I was 19 and had just moved to New York from Cleveland, I got on The Cosby Show on my second audition ever." Howard was so angry that his scenes were cut, he confronted the show's star and producer Bill Cosby – who he claims subsequently blacklisted him in the entertainment business.

He explains, "I told him, 'I'm a man just like you.' He didn't like it, and the casting agent never took my calls again." Howard didn't work for four years, but recovered to forge a successful acting career – landing an Academy Award in 2006 for his role in Hustle + Flow.
[From Contact Music]
Obviously it didn't hurt Howard in the long run, since his film career is doing pretty well these days. The story doesn't seem that surprising or outlandish to me. After Lisa Bonet – who played one of Cosby's children on The Cosby Show – filmed a movie that almost got an X rating and then did a nude photo shoot for Rolling Stone, Cosby had her fired because he disapproved. She was given a spinoff show after she threatened legal action. But Cosby has long felt it okay to dictate right and wrong, especially to young people.
Cosby seems to take his role of the moral authority pretty seriously, so Howard's claims sound legit. It's pretty damn ironic, considering the claims against Cosby.
Here's Terrence Howard at the BET Awards on June 24th. Header Los Angeles, California – 24.06.08. Header image of Bill Cosby outside the 'Late Show With David Letterman' in New York on January 28th. Images thanks to WENN.