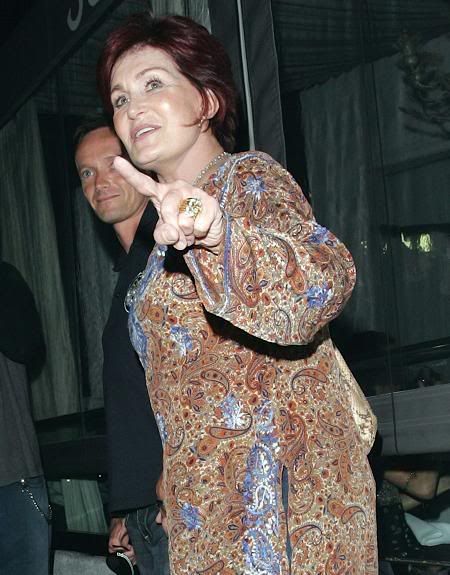 I walk a fine line between loving and hating the Osbourne family. Luckily they've lost much of their appeal in the U.S. so I don't have to think about them a lot anymore. On the one hand, I think they're loud and tacky and rude. On the other, I appreciate that they stand up for each other and seem to have a close bond, albeit an unusual one. Matriarch Sharon Osbourne went off on comedian Jim Jeffries, telling him in an email exchange to "f#%$ off" after he called daughter Kelly fat and implied she was ugly.
The feisty matriarch – who has a penchant for firing off poison-pen letters to those who dare cross her – sent a scathing email to Jim Jeffries, telling him to 'f*** off'. Potty-mouthed Aussie comic Jim clashed swords with Kelly during this year's inaugural NME Awards USA. But he has now revealed the fallout from daring to criticise the Osbourne clan – even in jest – and the frank and hilarious exchange of emails between him and Sharon.

He was presenting awards in April and had made a joke to Kelly that she wasn't as attractive as Agyness Deyn, who had just left the stage. The 23-year-old responded with a string of expletives, to which Jim replied drily: 'I think she'd be famous even if she wasn't Ozzy's daughter – she's that good.'

Kelly then spat in his face (charming). If that wasn't enough retribution, Jim said: 'I thought that would be the end of it but I got an email from Sharon which said, 'Dear Nobody. Wait until you're a celebrity before you criticise REAL celebrities. Why don't you f*** off '.' But Jim hit back by replying: 'Dear Sharon. After you had all that plastic surgery and had the fat sucked out of your thighs, why did you pump it into your daughter's face?'
[From the Daily Mail]
Jeffries shared the emails at a gig last night. Frankly I don't think anyone comes off that well here. Jeffries sounds like a jerk for saying what he said in the first place. Especially in front of an audience. Kelly comes off as disgusting for spitting in his face. The cursing I can understand; in this particular case I'd say it was appropriate. But spitting… not so much.
And Sharon Osbourne could try broadening her vocabulary beyond her traditional 30 words. In fact what she said would have a lot more impact if she didn't speak that way all the time. As it is, it's pretty easy to brush her off. And to be fair, Kelly is definitely not fat, though she does have a very round face.
Here's Kelly Osbourne leaving after eating lunch at an outdoor cafe in Manhattan yesterday. Photographer: Anthony Dixon. Header of Sharon Osbourne leaving Sur Restaurant in Los Angeles on July 8th. Images thanks to WENN.