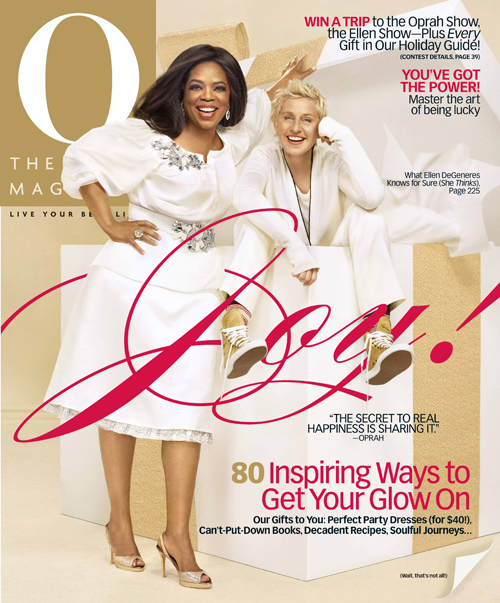 What, oh what shall we do when Oprah Winfrey ends her talk show to start her TV network? Who will tell us what to read? Where will Julia Roberts promote her movies based on Oprah's book club choices? Whose couch will Tom Cruise jump on?
Some of you younger readers have never known a world without Oprah. Her talk show has been on for 25 years.
Never fear. Oprah has chosen her successor, and it's Ellen DeGeneres.
You know it's serious when somebody besides Oprah appears on the cover of "O" magazine. Ellen was the second woman to achieve that feat. Michelle Obama was the first.
Oprah Winfrey and Ellen DeGeneres have become Hollywood's newest BFFs!

Oprah will be wrapping up production of her long-running show after 25 years and launching her OWN network in Los Angeles in January. And she's now ready to "pass the talk-show queen torch" to Ellen, said a source.

The Enquirer has learned the women recently shared an intimate dinner — Ellen bringing along wife Portia de Rossi and Oprah with her closest friend, Gayle King.

"They've always been fond of each other, but Oprah sees Ellen as her successor. She's wanted to personally give Ellen advice on turning herself into a worldwide media brand," explained the source.

After spending a great deal of time communicating via phone and e-mail, Ellen invited Oprah and Gayle to join her and Portia at their Los Angeles home for a gourmet vegan dinner.

"At the intimate gathering, Oprah gave Ellen advice on how to carry on with her upbeat, heartfelt approach to TV talk," explained the source.

Meanwhile, Gayle and Portia chatted in another room, according to the source.

The four have become fast friends. Ellen, 52, became the second woman — after Michelle Obama — to ever appear on the cover of "O" magazine with Oprah in December 2009. And Portia, 37, recently appeared on Oprah's show to discuss her autobiography, Unbearable Lightness, which chronicles her battle with anorexia and coming to terms with her sexuality.

But the get-together nearly never happened — after Oprah, 56, kept her hosts waiting for more than an hour, explaining that she'd been stuck in traffic.

According to the source, Ellen joked: "You're an L.A. girl now — get used to it!"
[National Enquirer, print edition, December 20, 2010]
It's interesting that Enquirer portrays this as a big happy girls' club, even using the word "intimate" twice, so soon after Oprah's recent teary admission that she's not a lesbian.
I'm just relieved Oprah didn't choose Dr. Phil to be the new talk-show queen, but I wager Rosie O'Donnell is not at all happy.