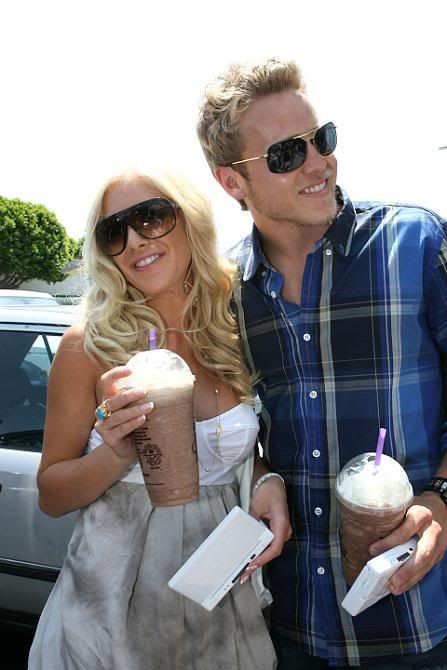 The thought of Heidi Montag and Spencer Pratt spending time in a war zone is pretty appealing to most people. But the possibility of them somehow getting a little bit of good publicity is utterly sickening. The disgusting duo are pimping out their new friendship with (presumed) republican presidential candidate John McCain's daughter Meghan, and are trying to use their new connections to finagle a trip to Iraq.
… Senator John McCain — or at least his daughter — has certainly struck up a friendship with a Hollywood celebrity — who's none other than Heidi Montag. The Hills star, who has voiced her support for the Republican presidential hopeful, has been in close contact with Sen. McCain's daughter, Meghan.

"She's very sweet," Heidi tells Extra. "We have a lot in common." That includes their support of the troops. Meghan is trying to engineer a trip to Iraq for Heidi and fiancé Spencer Pratt. "Her dad definitely has some pull with the military," Spencer says. "I think she's going to put that together for us."

Heidi is determined to entertain the troops overseas as her late stepbrother Eric O'Hara served in the 82nd Airborne Division. He wasn't killed during duty, but passed in a freak accident back home in Colorado. "My brother was an airborne ranger in Afghanistan and Iraq," she says. "It's very important to me and important to Spencer to support the troops and go over there."
[From OK! Magazine]
Oh please. Don't make this sound like anything more than what it really is: more fodder for your pathetic "celebrity." I've never seen any couple set up more obvious, cheesy, and trite photo ops in my life. Heidi and Spencer on a horse-drawn carriage in Central Park! Heidi and Spencer catching a fly ball at the baseball game! Heidi and Spencer running through a field of daisies!
Look I appreciate supporting the troops, but that's clearly not what this is. And it's just crass for Heidi to use her deceased stepbrother to make it sound like something deeper than what it is. You want your pictures on the pages of OK! And you're desperate to be taken seriously; but the harder the two of you try, the worse you look. Just give up, make your sex tape, get into some minor-league legal trouble and fade into oblivion with the rest of the Q-list celebs.
Here's Heidi Montag and Spencer Pratt having lunch on Robertson Boulevard in L.A. on Friday. Don't you pose like that when you eat? It looks ever so natural. Images thanks to PR Photos.