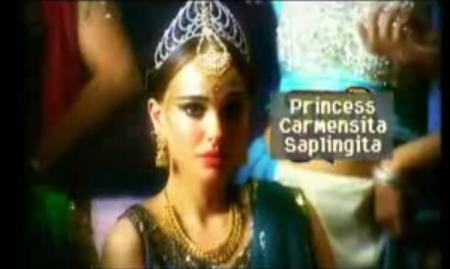 I'm pretty sure the single greatest advantage to being a celebrity is getting to date other celebrities. Let's face it, they're hot, they're rich, and the odds are pretty good you won't have to be with them more than a year or two. Talk about variety. Plus you can use them in your projects (advantageous if they're hotter than you) or try to talk them into using you in their projects (advantageous if you're hotter than them).
I'm not going to say who's less hot (and thus reaping the greater advantage) in the Natalie Portman/Devendra Banhart relationship (though we've all got eyes and know it's clearly the latter), but the two have joined together to create the music video for Banhart's latest single "Carmensita."
Folk rocker Devendra Banhart has enlisted girlfriend Natalie Portman in his latest project: the music video for his new single, "Carmensita."

Styled as a Bollywood send-up – with cheeky subtitles and silly special effects to boot – the musician casts Portman as a princess whom he must save with his "rebellious beard." (You just have to see it!)

When they're not in sync onscreen, battling snakes and fire, the happy couple have been spotted together, hanging out everywhere from New York's West Village to Israel.
[From People]
Banhart and Portman have been dating since about March, according to most reports. They're frequently spotted around New York City looking all lovey-dovey, but not in a nauseating, I-want-to-punch-you-in-the-face way. Because Natalie Portman is too classy for that.
Here's their new music video.