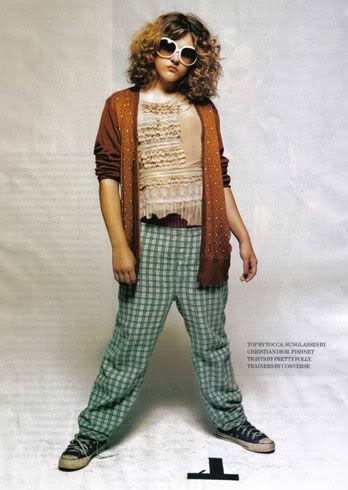 Frances Bean Cobain wore her late dad Kurt's clothing to an Elle photoshoot that featured rock and roll children in their parent's attire. She donned the pajama pants he wore when he married crazy Courtney and his trademark brown floppy cardigan:
Frances Bean Cobain stunned photographers on a new Elle magazine photo shoot when she turned up wearing her late father Kurt Cobain's old pajamas.
The shoot featured celebrity offspring wearing the clothes of their rock 'n' roll parents — with Kimberly and Ruby Stewart sporting old lumberjack coats belonging to their dad Rod, and Midge Ure's daughter Molly Lorenne modeling the coat her father wore in the Ultravox video for "Vienna."
But 14-year-old Cobain's apparel, first worn by the tragic Nirvana frontman on his wedding day to Courtney Love, was a more bizarre choice.
She says, "He got married to my mom in them in Hawaii in 1992 so I thought it'd be cute if I wore them today."
That's really touching. I remember when I heard that Kurt Cobain committed suicide, and I was just about to graduate from college. (Yes, I'm old!) We all listened to Nirvana back then and it was such a big deal when Kurt died.
14 year-old Frances seems to be doing well considering she lost her father and her mom has been in and out of rehab. In the interview she says that she enjoys acting and photography, but is really focused on school and wants to "enhance her social life." Her dream is to become a movie director.
Her mom Courtney Love may be cleaned up now, but she's not looking good.
Pictures from Celebrity Nation and I'm not obsessed.