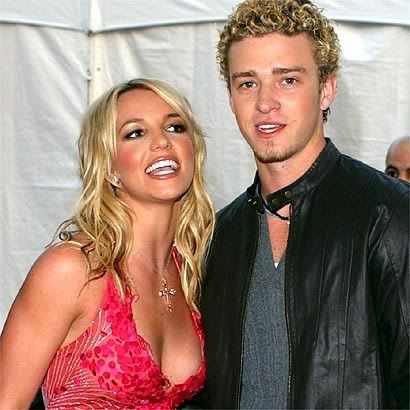 OK! must really be getting desperate for stories. Either that or they have some really hot, shockingly implausible gossip. The British version of the mag claims that the US version (yes you read that right) that Britney Spears is finally reuniting with Justin Timberlake to work on a duet for her upcoming album.
The two famously parted ways after Spears cheated on him, which seemed to kickoff her downward spiral. After that she married a guy for 24 hours, then married K-Fed (almost equally ill-advised moves), popped out two kids in rapid succession, divorced K-Fed, and then really went crazy.
Justin has long refused to have anything to do with Britney, wisely realizing that it could hurt his career and his credibility. But according to OK!, he's finally changed his mind.
Britney Spears and Justin Timberlake will reunite to sing a duet for Britney's newest album. The singer, who recently became an auntie, will get a helping hand from the SexyBack singer, reveals OK! USA exclusively.

Madonna recently revealed she would love to reunite the pair during her world tour. Britney is currently working on her latest album, which is yet to be assigned a release date. Her record label said: "[Britney] is spending her summer in the recording studio, working on a brand new album."

"She's working with a team of top-notch producers and songwriters and we're very excited about what she's accomplished so far." Britney and Justin met on Disney TV show, The Mickey Mouse Club, in 1993, they started dating in 1998 but split in 2002. It is widely thought that Justin's singles Cry Me A River and What Goes Around were written about Britney.
[From OK! Magazine UK]
It sounds like OK! is jumping to conclusions based on what they'd like to see happen. It'd be interesting if they recorded together once Britney's completely got her life together and is back at the top of her game. Anything else will seem like charity. Justin is noted for his perfectionist tendencies, which could lead to a really good song with Brit. But right now she's still a little out of practice, and it's probably important that she pick herself up, with the help of family and professionals. Not by being rescued by an ex-boyfriend.