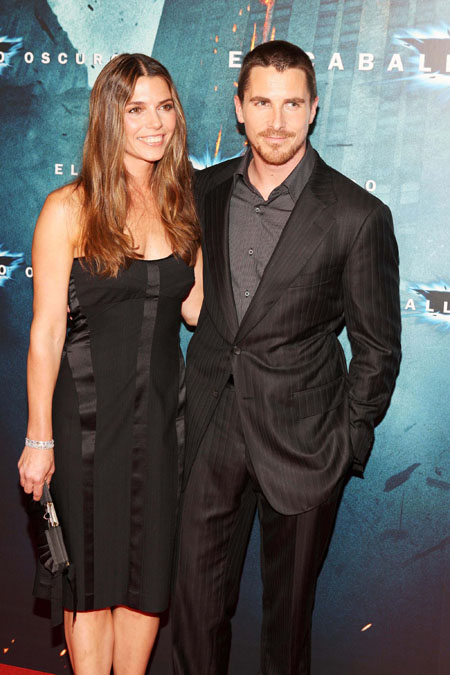 Christian Bale and his wife at the premiere of The Dark Knight in Spain last night. Credit: WENN
A lot of you speculated that the assault charges against Christian Bale were brought by his mother and sister after he refused to give them money or otherwise snubbed their requests for assistance. You may be right – and they may have had a secondary reason for reporting the non-assault to the police and making the story bigger than it needed to be. TMZ reports that his mother and sister are planning on selling their side of the story to news outlets for a lot of money. Just because Bale won't hand money over to them doesn't mean they can't cash in on their famous family member. All of this bad blood is said to stem from Bale choosing to live with his father after his parents divorced over 15 years ago:
Sources tell TMZ Christian Bale has had a long-standing difficult relationship with his mom and Bale's camp believes the motivation for the whole assault charge may be $$$.

We're told when Christian's mom and dad divorced nearly two decades ago, his mom forced him to choose between the two. Christian picked his dad, and father and son moved out to L.A. in 1992, where his dad became his manager.

Somehow Bale's relationship with the mom has been "bitter" ever since. Bale has told friends his mother was extremely jealous of both his and his dad's success.

Last Sunday, Bale let his mom and sis into his hotel suite, though it was by no means an olive branch. As we first reported, there was physical contact, but somewhere in between a push and a brush. No one fell and no one was hurt.

Christian's camp thinks this could be nothing more than a shakedown. We're told some newspapers and mags have already been throwing around "insane" amounts of money for the story, so mom and sis could score big.

But our sources say the cops are starting to see the whole thing Christian's way, and the charges could disappear faster than Batman.
[From TMZ]
That's pretty deplorable if it's all true. TMZ talks a lot of crap about people but they have solid information and they had exclusives in the Heath Ledger story ahead of the rest of the press. So it seems accurate and that would explain how Bale got arrested for what should have been a private family argument. We'll have to see who has his mother and sister's "exclusive!" story about Batman's raging temper and what kind of lies they spin in their attempt to get some money and revenge on Bale for not paying them the boatload of cash they feel they're owed.