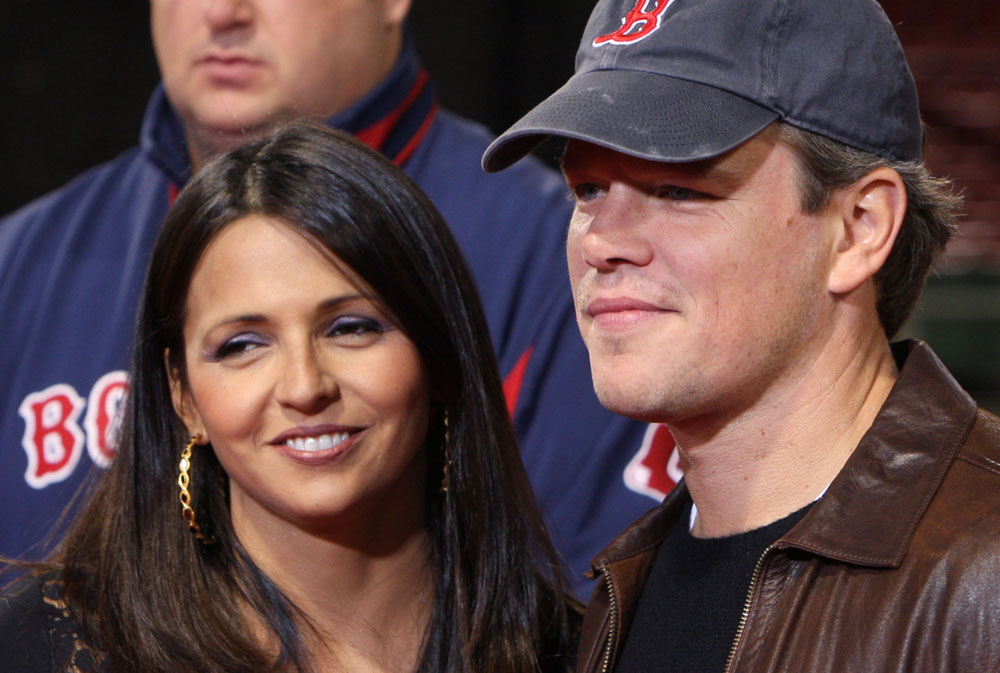 Here's a little throwaway article about Matt Damon in People, in which he addresses an upcoming scene in True Grit where his character spanks his onscreen daughter a girl with a switch. Damon said that he never spanks his daughters, and Kaiser and I had a little back and forth about whether Damon would spank us in bed. I've done it occasionally, and it can be fun but it's not my thing really. I'd let Damon do whatever, although he strikes me as somewhat vanilla in bed. Like he's not into kinky stuff but still knows how to have a good time. You know, I blame Kaiser for getting me to think this way. She has corrupted me so much. I now look at men on the street like they're sex objects (and we have so many hot guys in Berlin – you should visit!) and try to imagine what kind of sex celebrities prefer. I love my job.
Anyway, here's what Damon told People:
In a key scene in the new Coen Brothers Western True Grit, Damon, playing a boastful Texas Ranger, takes his costar Hailee Steinfeld – who turned 14 last week – over his knee and wallops her with a wooden reed. But that's a long way from Damon's real life with his four young daughters.

"I definitely don't spank 'em," the star, 40, told PEOPLE at the movie's New York premiere on Tuesday.

Attending the gala screening with wife Luciana, Damon said he and the filmmakers took precautions to make sure Steinfeld wouldn't actually get hurt filming the spanking scene.

"It's a scene in the movie that needs to be there for a whole host of reasons," he said. "And so, they just put a big pad on Hailee. And we practiced. And I said, 'Hailee, does that hurt?' And she said, 'I can't even feel it.' "

The whole family got to visit Damon on location for the Western, which was shot in New Mexico and Texas and stars Jeff Bridges as U.S. Marshal Reuben J. "Rooster" Cogburn, the role that won John Wayne a Best Actor Oscar in a 1969 screen version. This new take on the tale more closely follows the 1968 novel by Charles Portis. (The singer Glen Campbell played Ranger La Boeuf in the earlier version.)

"They were interested in seeing the horses," Damon said of the family visit to the set. "So, we got some pictures of them with the horses."

At home, is it tough to control four young women running roughshod? "Yeah, it's kind of nuts," Damon says. "The alarm goes off, and [expletive] starts flying."
[From People]
I love how he describes his home life "sh*t starts flying." Lucy is a lucky bitch but I'm sure she puts up with a lot from Damon. He strikes me as argumentative, but that's probably because he's so good at playing angry. I bet he spoils his daughters and is a doting pushover dad.
True Grit is out in the US on the 22 of December and is said to be Oscar bait. It would be great if Damon could win another Oscar.
True Grit premiere photos credit: WENN. Photo of Damon outside Letterman is from 12/10 and credit: L. Gallo/WENN.com. The Town premiere photos are from 9/14 and credit: Bizu/WENN.com