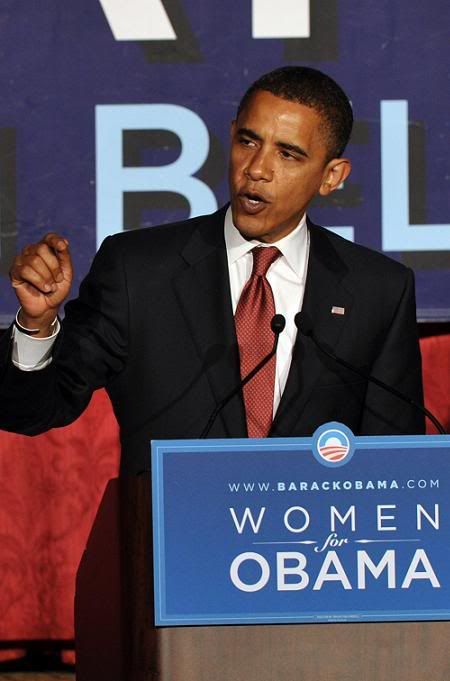 Presumptive Democratic US Presidential nominee Barack Obama and his wife Michelle have a new interview with People Magazine in which they speak candidly about their family life. They primarily talk about how they work together to create a normal life for their daughters, Malia, 10, and Sasha, 7. The Obamas received some slack earlier in the month for allowing their children to talk on camera to Access Hollywood. It was a casual and low-key interview that seemed harmless to many people. We'll have to see what kind of fallout they get from the TV pundits for being so open with a celebrity glossy. They come across as a normal and close knit family who try to teach their daughters the value of hard work. They don't reveal anything incredibly personal, and if anything show that they don't mind talking about their family and what works for them:
They don't give their daughters birthday presents and do parties instead
PEOPLE: Someone told me today that you don't do birthday presents.
Michelle: No, because we spend hundreds of dollars on a birthday party and movie tickets and pizza and popcorn …
Barack: That sleepover is enough. We want to teach some limits to them. And their friends bring over presents.
Michelle: They get so much stuff that it just becomes numbing. Malia believes there is still a Santa Claus even though she's a little wary because some of her friends are non-believers. But Malia says, "Ma, I know there is a Santa because there's no way you'd buy me all that stuff." [Laughing]
[From People.com]
10 year-old Malia gets a dollar a week allowance for chores
Do you give your girls an allowance?
Michelle: Sorta, kinda. [Laughs]
Barack: I'm out of town all the time, so Malia will say, "Hey, you owe me 10 weeks!" … Originally, we were giving her a dollar a week as long as she did all her chores. It turns out that she's been doing her chores even without prompting from the allowance, which makes me feel guilty that she's been carrying on her end of the bargain and I haven't been as consistent.
Daughters are worried if their dad becomes President because they'll have to leave their friends
Last year, when we first met, Malia said that she sometimes wished maybe you wouldn't win. Do you think they still have those mixed feelings?
Barack: I am absolutely certain because we've talked about it – that they are not looking forward to moving. They have a wonderful life in Chicago, they have lifelong friends in Chicago and the prospects of having to make new friends, that's never something that kids are looking forward to. So I'm sure that there's a part of them that says we won't be heartbroken if things don't work out.

And if they said tomorrow, "I don't want you to be President, I want you to be Daddy"?
Barack: Well, so far those issues haven't been mutually exclusive. We talked about this before we started and Michelle and I monitor their attitudes pretty closely.
Michelle: They've been stable. Their lives just haven't changed that much.
Barack: And our job, more than anything, is to make sure that in addition to monitoring whether or not they're feeling sad or neglected at all, that they're also not feeling special because their dad is running for President.
Michelle: That's right.
Barack: One of the things I've been really happy about is how nonplussed they've been by the whole thing. They don't bring it up, they don't talk to their friends about it. If anything, they're actually more courteous and more careful with other people now than they were before I ran….

How are you preparing them for possible life in the White House?
Michelle: Slowly. We talk to them about it as they are curious. … They ask about schools and making friends. … Their anxiety has nothing to do with the White House; it has everything to do with what kids think about: "If I have to go to a new school, will I make friends and what about my old friendships?"
On teaching their daughters to be humble and to empathize with other people
Did you talk about that, their behavior in a fishbowl?
Barack: It was more just like making sure the same standards we set before we were in the public eye were maintained.
Michelle: Be considerate of how other people might feel, you know, empathize. Put yourself in the place of other people.
Barack: And just never think that you're better than anybody else. Or worse than anybody else.
Michelle: That's also one of the reasons why we don't campaign with them a lot. Because no matter what you do at a campaign setting, they are special, right? It's Fourth of July and everybody is singing "Happy Birthday" to Malia. … And everybody loves the kids so they get special treatment. That's nice for a day or two, but they need to go back home, just so they realize that this isn't life.
Barack: Which is good when they're doing activities like soccer. Malia loves soccer, but she's still so tall and gangly compared to some of these little kids who are zipping around her, although she's getting better. The fact that she's not good at everything right away – and Sasha's not good at everything right away – means learning lessons about having to work hard at something and improve.
On the difficulties of balancing everything for their family and in their marriage
Can you tell me how this experience has changed your marriage?
Barack: It's made it stronger. The tough times for us were when the kids were real small, I was away a lot and Michelle was still working. So, the burden on her was enormous, and I think there's a feeling that maybe I didn't fully appreciate that burden. That was something we worked through. And I think we're both more patient with each other. We both know how to avoid making the other person feel aggravated. And I'm so proud of her and I think she knows how much I love and appreciate her. So, she puts up with me.
Michelle: I think it has made us stronger. Time and love and sacrifice and hard struggles, I think, make you stronger.
Barack: I also think that she knew at the beginning when I was doing this that if she came to me and said don't do it, I wouldn't have done it.
Michelle: That's the key, for sure.
Barack: And if I ever thought that it was ruining my family, I wouldn't do it.
Michelle: We're constantly balancing each other. I know that if I were to say, "I can't take this," it would be over.
Barack and Michelle come across as very open and honest about their family and the things they go through to make it work day to day, and you can tell that they instill good values in their daughters. Whatever your political beliefs, you can see that they have a strong family and really care about their daughters and giving them a stable life. I also like the last part about how Barack is honest that he didn't help as much as he could have when the girls were little. He said they worked through that rough stage, though, and have reached a better understanding of each other and what they need to do for Sasha and Malia.
You can read more of the interview and see exclusive photos on People.com and in their upcoming issue.
Picture note by JayBird: Here's Senator Barack Obama speaking at the 'Women for Obama' breakfast at the Hilton Hotel in New York on July 10th. Images thanks to WENN.