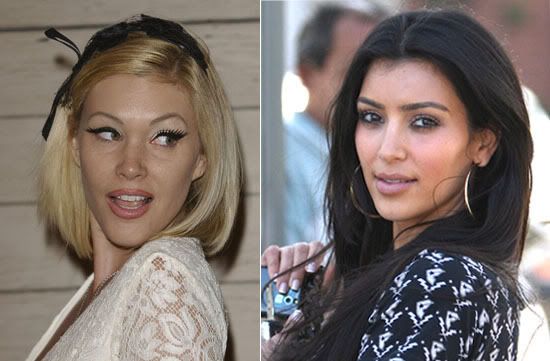 Shanna Moakler and Kim Kardashian are involved in a high school level feud over whether Kim had an affair with Travis Barker, Shanna's on-off-on-probably-off ex-husband. It gives me a headache just to read the drivel they're hurling back and forth, but Kardashian's response seems to make the most sense and sum up the issue best: Moakler accused Kardashian of having an affair with Barker, which would mean she cheated on her boyfriend, Reggie Bush. Kardashian was a model for Barker's clothing line and says their relationship was purely professional. Plus, she says Travis isn't her type anyway. Here's Kardashian's response to Moakler:
"I was a model for Famous Stars and Straps clothing line owned by Travis Barker. I ONLY had a professional relationship with Travis, in which he hired me to represent his brand for one season, which was a year and a half ago."
[From The Dirty via TMZ]
While Kardashian's response may be more measured and easier to follow, we shouldn't pass up Moakler's priceless interviews and MySpace entries, which make her sound clearly in the wrong, antagonistic and self-obsessed to boot. This isn't the first rant against a perceived wrong Moakler has posted. She's written nasty things about Lindsay Lohan and Paris Hilton in the past and even put up their contact information in a bid to get back at Lohan for claiming that Moakler hacked her myspace.
Apparently Kardashian and Moakler got into a fight at a barbeque in which Moakler accused Kardashian of sleeping with Barker and then proceeded to try and throw a drink at her – which landed on Kardashian's foot instead. Moakler described the incident in an interview with TheDirty.com, and proceeded to call Kardashian fat:
Yea, we heard you had a little altercation with someone at Carmen Electra's bbq. Is that true?

Shanna: Yea! I was at this bbq and I saw what I thought was a donkey posing on the stairs but much to my surprise, it was Kim Kardashian. No, wait, it was a donkey! She's soooo f*cking fat! She's 5′2″ and she's like 140. She was wearing a sarong to cover her huge big ass! I like a nice ass but hers is not a nice ass!
[From The Dirty.com]
The way Moakler describes it, she then talked to Reggie Jackson, Kardashian's boyfriend, and warned him that she had cheated on him. Moakler claims to have e-mails stolen from Kardashian's sidekick that the were sent to Travis Barker trying to get him to hook up with her. She doesn't describe the fight in that interview.
Moakler wrote an entry on her myspace acknowledging the fight on July 24, but on July 21 she complained that Kardashian distracted some paparazzi she called and said Kardashian "could never get Travis drunk enough" to sleep with her. Then a few days later she admitted she had "a [sic] incident" with her at a party:
I absolutely had a incident at a recent BBQ, it was long over due and I don't regret it, I had reasons and they were my own, and some of them very painful. I had a feeling the other party would run off to Perez and they did amongst some other things and so I had to go to bat, don't be pissed cause I speak my mind and I don't need a PR firm to blow smoke up all your asses…even thou I know you like it…I personally don't care. I live for me and my family.
[From Shanna Moakler's myspace]
TMZ reports that Kardashian's response to Moakler was that Barker wasn't her type at all. Moakler then responded by saying that Kardashian has dated plenty of white guys. Maybe she doesn't like skinny white guys who look like rats and that's what she meant:
Come on Kim, Let the truth be told! You have dated numerous white guys. Your quote saying that you are not into white guys is a sham – not a SHIM like you! How about you just be honest Kim and say, "Shanna, I'm sorry for f'n with your man!" It's that simple… then you can deal with the aftermath from Reggie, you know- your man that you cheated on!"
[From The Dirty]
I feel like I've regressed just trying to follow that argument. Shanna Moakler could make anyone look like the more responsible party, and in this case Kardashian seems positively noble in comparison. If Moakler's just trying to get press she picked a good time since it's the middle of the summer and most celebrities are vacationing or promoting films, not picking fights online.
Kim Kardashian is shown on 7/22/08, Credit: WENN. Shanna Moakler is shown on 5/21/08 and with Travis Barker on 6/7/08. Credit: WENN and Splash