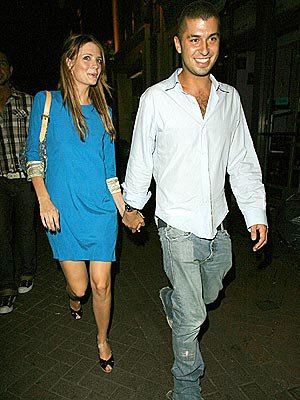 People reports that Mischa Barton was seen out holding hands with a new guy in London recently, which may signify the end of her stormy relationshiop with Whitestarr frontman and all-around suspicious character Cisco Adler.
Mischa has hooked up with Rugby star Mark Robinson, also known as "Sharky" of the Northampton Saints. Robinson is from New Zealand so he's got to have the sexiest accent:
"The OC" beauty Mischa Barton is rumored to be dating rugby star Mark Robinson after the pair were caught kissing at a London hotspot last week.
The 20-year-old British-born actress had been dating rocker Cisco Adler but reportedly hooked up with the 30-year-old sportsman at a swanky bash in Windsor, England.
An onlooker at the party tells Britain's the News of the World, "Mark couldn't believe his luck. One minute they were standing there talking and the next they were all over each other in the corner of the tent. They were (kissing) and running their hands over each other's bodies. They didn't seem to care who saw."
A close friend of Robinson adds, "He's been smiling all week and has told pals but won't talk publicly."
As Mischa matures, so does her taste in men. Cisco seems like a decent guy, considering how he spoke candidly in her defense when Paris talked trash about her, but he doesn't seem like he's in Mischa's league.
There's also a report that Mischa snubbed British comic Russell Brand, who was briefly linked with Kate Moss. Brand tried to hit on Barton at a London club recently, but she wasn't having it.
Barton won't have much time to spend with her new sportsman this week. She flew into Australia on Sunday to help promote designer David Jones' summer collection.
Here is Mischa with Mark Robinson, and some photos of her at the airport in Sydney and at David Jones summer collection launch. The first two photos are small, and the rest are high resolution. [via]
Update: I'm not sure Mischa is shown with Mark Robinson, because the guy she's holding hands with doesn't look exactly like the pictures I've seen of the rugby player. She hooked up with Robinson according to sources, but whether that's the same guy in the photo with her is up to debate.
Update: The guy she's holding hands with is her gay hairdresser, but she did supposedly hook up with that
Kiwi rugby player. I work with the information I have at the time, people! It's like 6 hours later here, so I'm looking at the gossip at 2:00 AM EST. Sometimes it's fresh, most of the time it's green and not ripe enough to pick.