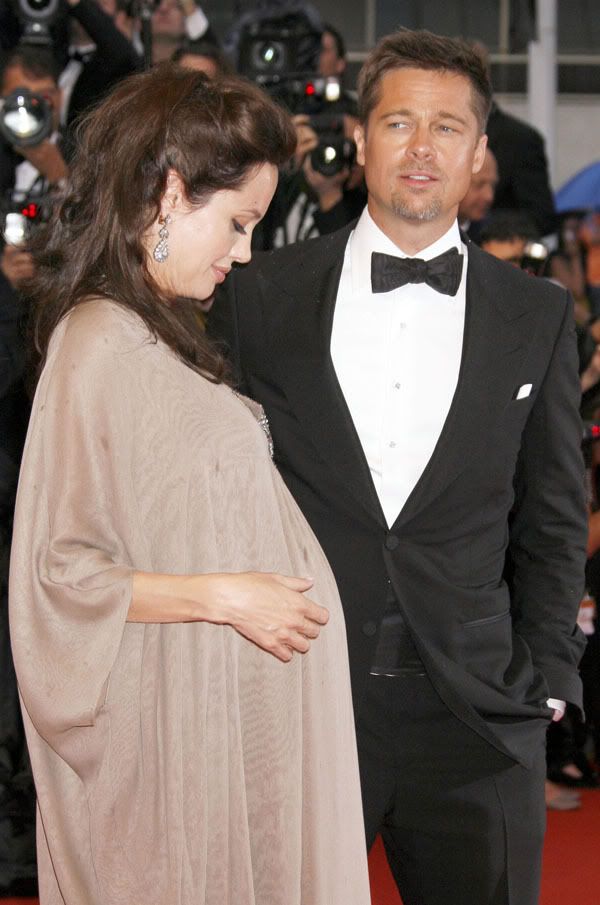 Brad Pitt issued a public cease and desist earlier in the week declaring that he would sue any publication that printed photos taken with a telephoto lens of his family on their property in what was "a malicious violation of Mr. Pitt's right of privacy, including under the laws of California and France." Agency Bauer-Griffin secured those first post-twins photos of the famous family playing in their backyard with a giant inflatable ball. The twins were not outside, but their older kids were seen playing along with Brad, Angelina, and Brad's mother and brother. Bauer Griffin removed the photos from their website after Pitt's legal letter, but it was a little too late for In Touch, which purchased the exclusive rights and ran a huge spread with the pictures this week.
Brad and Angelina went to great pains to secure their privacy by leasing an 880 acre estate in the South of France that includes a lake, moat and surrounding forest. Their security team consists of four body guards and six French ex-military who patrol the perimeter. [1] Photos of the family are worth a mint, though, and all that land and protection won't deter persistent photographers when the payoff is so big.
There was an altercation between two paparazzi photographers dressed in camouflage and two of their ground security men earlier today. Both sides escaped with minor cuts and bruises and were taken to the local police department for questioning. Fights aren't supposed to be funny, but the whole scenario sounds humorous, particularly since the two security guys who were involved applied for four days off work for their pain and suffering. You know they're going to be loafing around on the beach with their families:
French police say camouflaged paparazzi who got on to the grounds of Angelina Jolie and Brad Pitt's chateau in southern France fought with the Hollywood couple's guards.

Police spokeswoman Capt. Olivia Poupot said Friday the two photographers were wearing camouflage clothes. She said police officers took them and the two guards in for questioning after Thursday's bust-up at the Jolie-Pitt family's Miraval estate.

The police captain said both sides filed legal complaints accusing the other of battery and causing injury. She said she believed the injuries were bruises and scratches and "nothing nasty."

Nevertheless, the guards got doctors' notes giving them four days off work; the photographers did not, she said…

oupot said she didn't know how long the paparazzi had been on the chateau grounds or further details about the "altercation with the guards."

"One can imagine that if you discover someone in your garden who is taking your photo then you're not necessarily going to politely show them the way out," she said.

Police took everyone downtown to the nearby village of Carces and took statements. A judge will rule on whether the legal complaints should be pursued further, she said.

Poupot said it was the first time the chateau has called on police to intervene since the Jolie-Pitts settled there earlier this year, ahead of the twins' birth.

The police captain said she had no information on the nationalities or the names of the photographers.

"I won't hide for you that this kind of thing is really not the type of problem that interests us," she said. "There are, in my opinion, far more important things than paparazzi taking photos of a glamor couple."
[AP via The Huffington Post]
So the police are basically saying they're not that concerned about the photographers staking out Brangelina's place and don't want to be bothered with all the b.s. that goes along with taking care of those relatively minor issues. Meanwhile the security guys are taking this as an excuse to take a vacation. If I learned anything from those "Year in Provence" books it's that things can work a little slower in France than outsiders are used to, and maybe it's not unusual to take a few days off there after some on the job stress. (With apologies to our French readers if my opinion is overly biased or wrong, and I hope you'll let me know.) These guys could have been hurt worse than was reported, but it doesn't seem like it.
You can see the security guys sitting there smoking and playing cards when they spot the photographers crawling around on the ground in their combat gear, black stripes painted under their eyes and wearing fanny packs with their camera equipment. The photographers try to run away and the security barely catches up to them huffing and puffing, and pulling them down to the ground where a minor scuffle ensues. It had to be the most exciting thing that happened all week for those photographers apart from those photos that they're likely to get sued over.
Update: Reality is much more sobering than our imagination. People Magazine reports that there are accounts by both the paparazzi and the security staff about alleged brutality by the other side. A male and female photographer were there, and the male claims he was attacked with a walkie talkie bash to the head and defended himself by smearing blood on the guards and telling them he was HIV positive. He says he bit one guy and broke another one's finger in what sounds like retaliation. Brad and Angelina's rep confirms the incident, saying their staff member was attacked. No one has been arrested and it's up to a judge what happens next:
The photographers, identified as freelancers Luc Goursolas and Marianne Saint-Arroman, clashed with the Pitt-Jolie security in the woods around Chateau Miraval, where the couple have been staying following the birth of their twins.

Trevor Neilson, a spokesperson for the couple, tells PEOPLE one of the paparazzi "viciously attacked a staff member, breaking his finger and wiping blood on his neck, arms, legs while saying he had Hepatitis C."

Goursolas confirms to the AP that he fought with guards, saying he broke one guard's finger and bit another, drawing blood. A guard, he claims, bloodied by hitting him on the head with a walkie-talkie.

"I was pouring blood. I threw myself at them, put blood all over them, and told them that I had HIV so they would stop hitting me," Goursolas told the AP.

But both sides conflicted on whether the guards were actually on the Pitt-Jolie's property.
[from People]
[1] We usually don't do footnotes as they're too formal, but I wanted to let you know that the detail about their security team is from the National Enquirer, print edition, August 4, 2008 in a story about how Angelina is having a hard time after the birth of the twins. I haven't read it elsewhere yet and wanted to provide a reference.
Photo credit: Fame