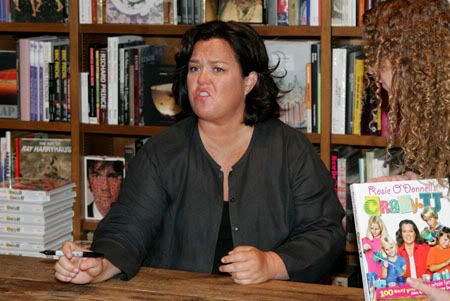 Rosie O'Donnell could be back on TV. After leaving her talk show centering around celebrity guests in 2002 and briefly taking part as a moderator on The View, she is back on NBC. The show is said to still be in the negotiation process, but rumor has it that the concept has something to do with a variety hour.
Multiple sources confirm to me exclusively that Hasselbeck's former View nemesis, Rosie O'Donnell, is in active talks with NBC to return to television with her own weekly primetime variety show.
Rosie is maintaining secrecy about the project. She feels that an earlier television show deal with MSNBC was blown due to the network "panicking" after the news of a possible show was leaked. This time around she is trying to seal the deal before NBC changes their minds. With competition like the soon-to-be unemployed Jay Leno, O'Donnell is ready to ink a deal now.
If the peacock network fails to work out she might have another option. CBS is also said to be interested in utilizing Rosie's better qualities to their advantage. Any series being pitched revolve around humor and celebrity star power. The idea is to stay away from hot topics that cause debate and issues.
I hate to admit it, but NBC would be wise to pick her up. She is a ratings magnet. People pretty much love her or hate her, but The View scored top ratings while she was there. I just don't think a variety hour is a great idea. Sonny and Cher should have put a patent on that. Perhaps then we wouldn't have been subject to the eye torture of Nick and Jessica's failed 2004 variety show.
Rosie O'Donnell is shown signing copies of her book Crafty U in Coral Gables, FL on 6/28/08. Credit: Splash News