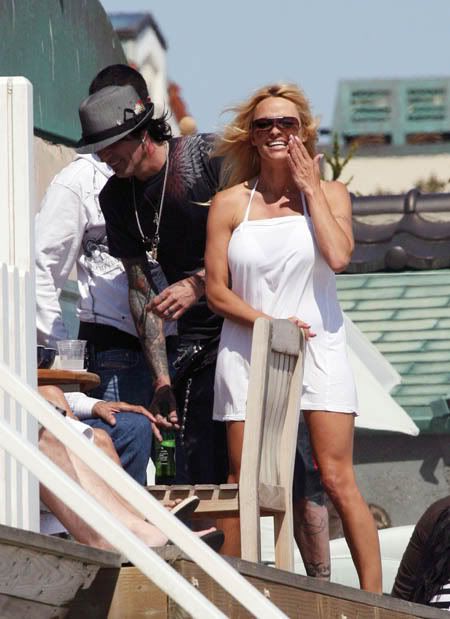 Pamela Anderson leaves me utterly confused, probably because gazing into that cleavage is kind of hypnotic. Her breasts just seem to have a career of their own, separate from the body they are attached to. I have no idea exactly what it is she does for a living, her career seems to be based entirely on blonde hair, a tan and her previously mentioned assets. It doesn't seem to matter that she's over 40 and looks like she's ready to be skinned for a handbag, she is still trading off of her physical attributes.
This is not the part of Pamela Anderson that is causing me confusion today, I'm confused by her relationship with Tommy Lee. Pam tried to explain their living situation.
She says, "We're great friends. We just live together. And we're ex-husband and wife."

And, although there is no romance between the pair, she hasn't given up hope of one day reuniting with him: "It's kinda silly. I don't know where that's gonna go. The dream would be that all of us could really be together, but we're better friends."
This comes after a friend of Tommy Lee's claimed if you were nice to him, he'd show you naked pictures of Pamela Anderson on his cell phone that he's taken in recent weeks.
From these pictures you could safely assume that Pammy and Tommy are engaging in carnal acts, and they live together, and have children together. I think Pam, despite your confusion and denials, that you are a couple. None of these attributes fits into the 'just friends' category.
Why is the couple living together? Is it to be closer to their children, or to share cash resources? I'm trying to imagine the house rules – Is Tommy allowed to bring a girl home for sex but not invite Pam?
Pamela Anderson, Tommy Lee and their kids are shown filming scenes for her reality show on the beach in Malibu on Memorial Day, 5/26/08. Credit: Mike/Fame Pictures