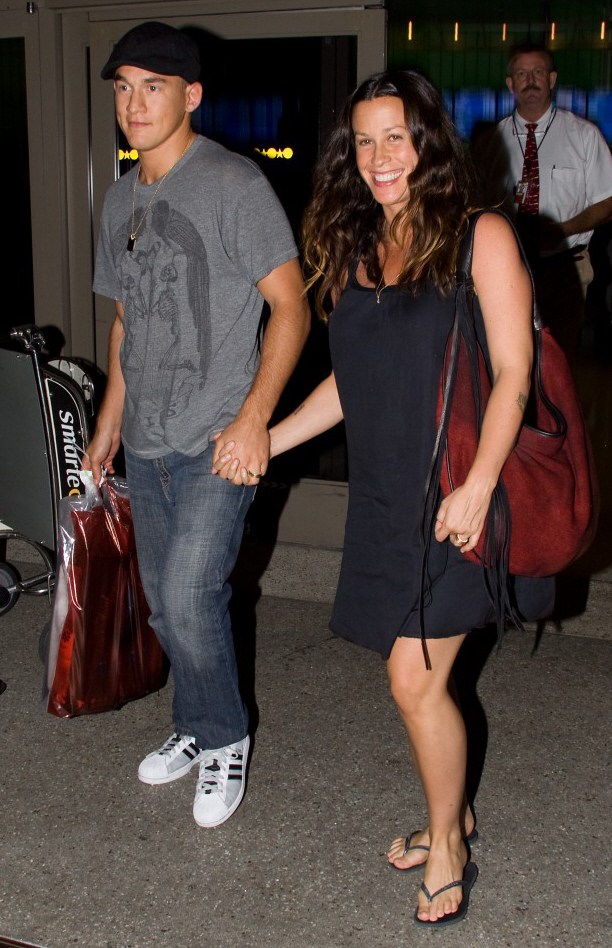 Alanis Morissette gave birth to a literal Christmas baby! She delivered her healthy baby boy on Christmas Day, and she named him… Jesus? NO. She named him… Ever. Ever Imre Morissette-Treadway. The hyphenated last name is courtesy of Alanis's husband, SoulEye, better known as Mario Treadway. As for "Ever" – God. I had a good wince, and then I flashed on something else – Milla Jovovich named her baby Ever too. Except Milla has a daughter. Is Ever a unisex name? Milla claimed that it was Scottish, which may be why Alanis chose it…? As far as "Imre" goes, I thought Alanis made it up, or that it was perhaps the name of a vampire in some young adult book, but it seems like it's a real baby name. Shocking!
Alanis Morissette got a very special Christmas package: a new baby boy, PEOPLE has confirmed.

"Alanis Morissette and Mario 'Souleye' Treadway welcomed a baby boy, Ever Imre Morissette-Treadway, on Dec. 25th," says a rep for the new mom. "All are healthy and happy."

The prolific singer/songwriter, 36, announced her pregnancy in August. She and Treadway, 30, married on May 22 at their Los Angeles home.

Morissette admitted before the birth that the pregnancy had been a surprise, albeit a happy one.

She enjoyed one last send-off before motherhood commenced, and was seen beaming and showing off her bump at a baby shower in October.
[From People]
Well, congratulations to the happy family. I'm glad Alanis had a healthy delivery, and I think it's awesome that Alanis and SoulEye are so happy and settled. Do you think Ryan Reynolds winced a bit? Probably.
header courtesy of Bauer-Griffin.