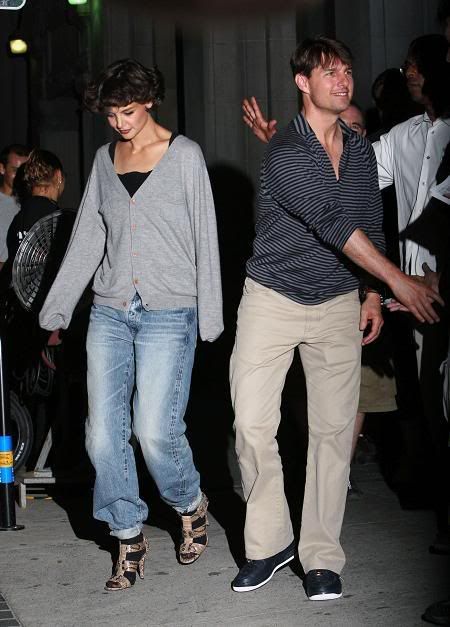 It seems Katie Holmesbot may have a backbone after all. Or at least a tail bone. It may have taken years and years, but Katie has finally gotten her way on one important issue – living alone with her husband and their children. Tom's mother, sister, and his sister's two children have been living with him for several years, since his divorce from Nicole Kidman. His sister Cass even homeschooled Tom and Nicole's kids, and took care of them whenever he was traveling.
Katie has been rumored to be unhappy with the living arrangement pretty much since the time she first came into Tom's life. Of course the thought of Katie Holmesbot having a say in who lives in her house is kind of ridiculous, so it didn't seem like anything would ever come of it. But she's finally gotten her way – when the couple moved into their new home, mom and sister Cruise stayed behind, and are now living at the Scientology Centre.
…when Katie and Tom recently moved into a $35 million home in Beverly Hills, Katie put her foot down and insisted that everyone — other than Suri and Tom's two children with Nicole Kidman, Isabella, 15, and Connor, 13 — find another place to live. "It's about time for Tom and Katie to live alone," another pal adds. "They never have before."

The adjustment may be difficult for Tom, 46. His mother, Mary Lee South, and three sisters have been a constant presence in his life since he divorced Nicole in 2001. All are Scientologists, and Mary Lee and sister Cass have lived with him at different points. "He's very close with his sisters and his mother and he always welcomes his family into his house," an insider says …"Cass and her sons have been an integral part of Tom's life, and Cass helps take care of Tom's children when he is away," adds the insider.

But when Katie finally said enough is enough, "Tom agreed things needed to be different," the family friend says. "He assured her that they would not be moving in with them." Instead, Mary Lee and Cass will remain at a duplex apartment at the Scientology Centre on Hollywood Boulevard, where the entire Cruise clan stayed while their new house was being renovated.
[From In Touch]
Somehow a duplex apartment seems like a big step down from a multimillion dollar mansion. Since it's part of the Scientology Centre I'm sure it's nicer than most other apartments. But it still seems like a significant downgrade. I'm pretty damn sure that Tom Cruise could afford to buy his mom and sister a decent house if he wanted.
It's his money and they're all adults, so I'm not saying he should, I'm just saying if he were so inclined, it's not like it'd be a hardship. And if he's as close to them as everyone says, it seems odd that he'd shuffle them off to the Scientology Centre instead of a nice little cottage in Studio City or something.
I bet they're really there for reprogramming. Tom needs to keep up his bot maintenance a little better. Clearly he's falling behind on Katie's.
Here's Tom and Katie in downtown Los Angeles on July 16th. What is going on with Katie's shoes? Images thanks to Fame.