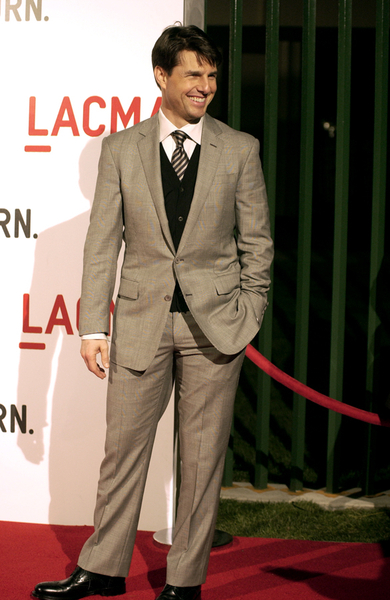 Tom Cruise's legal problems are heating up. He is named in a a $250 million federal lawsuit against the Church of Scientology by former member (and vocal critic) Peter Letterese. The most interesting part of the suit is that it's been filed under a RICO statute – which is a law that allows the government to go after and break up organized crime.
It's important to note that the government isn't indicting anyone under RICO, but that Letterese is using a provision in the RICO Act to file a civil lawsuit against the church and various high-ranking members. In order for the lawsuit not to be thrown out, Letterese will have to prove in court that the Church of Scientology really is a criminal organization under RICO – which isn't that far fetched.
Ex-Scientologist Peter Letterese, a longtime critic of the church, filed suit in Southern District Court in Florida on July 15 alleging, among other things, that members of the church harassed him after he left.

In court papers provided to The News by investigator Paul Barresi, Letterese claims a member of the church phoned his lawyer at home, and when the lawyer's wife answered, said he was her husband's homosexual lover. Barresi, who has done investigative work on behalf of Cruise, tells us: "[Letterese] is just including a celebrity name to get attention."

Letterese calls the church a "crime syndicate" and wants it broken up under the Racketeer Influenced and Corrupt Organization law, just as the feds have broken up Mafia families.

He singles out Cruise, who's made no secret of his religion, saying that Scientology head David Miscavage is "aided and abetted by the actions of Tom Cruise, his right-hand man for foreign and domestic promotion, as well as for foreign and domestic lobbying. He has assisted the syndicate in acquiring funds and [made] his own donations of money believed to be in the multiple tens of millions of dollars."
[From the Daily News]
The civil suit provision allows an individual to go after the crime organization for treble damages. Which means that if he won, the judge or jury could award Letterese triple the amount of the actual damages. As an individual, this is his likely motivation, since his civil lawsuit can't break up a criminal organization like a federal indictment.
Letterese had a lawsuit against the church thrown out earlier this month by the federal Court of Appeals for the 11th Circuit. That suit was over Scientology's use of the book, "Effective Sales Closing Techniques," – which Letterese bought the rights to after the author died. The suit was thrown out and he was fined $266,000.
Paul Barresi – the "investigator" who provided the papers and information to the Daily News – isn't exactly the most reputable guy. He was deeply entrenched in the Anthony Pellicano case, used to act and direct porn, and is generally one hell of a shady guy. So anything he says should be taken with one big grain of salt.
The lawsuit is pretty interesting, and makes me wonder if it might make the federal government take a closer look at the church and their finances. They have a long history of committing criminal acts ranging from kidnapping to accusations of murder. I'm sure they wouldn't appreciate having their finances leafed through by the government. And although it sounds complex, RICO charges are relatively easy to prove it court because they are about "patterns of behavior as opposed to criminal acts." Most often those indicted end up pleading to lesser charges – since each RICO charge can lead to 20 years in prison.
It'll be very interesting to see where this case goes, and what kind of information comes out about Scientology. It seems like the general consciousness has really been raised about this dangerous cult. Whereas before they were just some wackos to snicker at, the average person on the street is much more likely to have heard about the dangerous – and often criminal – side to this so-called "church."
Additional research for this article came from Wikipedia.
Here's a Scientology video that circulated on the net a few months ago. Just gives an idea as to the craziness.