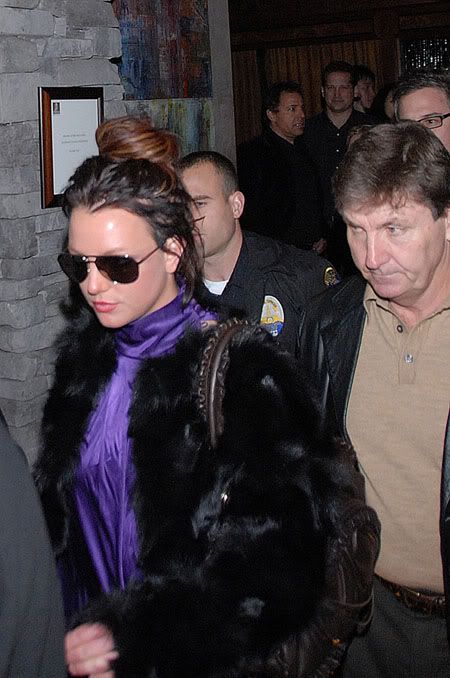 Britney Spears still isn't an independent adult. At least legally. Though it wasn't what she wanted, Britney Spears has agreed to extend her father's conservatorship until the end of the year. Jamie Spears moved out of her house last week, which at the time led a lot of people into thinking the conservatorship wasn't going to be renewed. However it became clear yesterday that Jamie was probably still going t retain control over her life for the time being.
Britney Spears will be under the conservatorship of her father Jamie until December 31, it was decided in court Thursday. "Ms. Spears is reluctantly agreeing to extend the temporary [conservatorship]," L.A. Superior Court Commissioner Reva Goetz said after the hearing.

Jamie and attorney Andrew Wallet were put in control of the pop singer's finances and estate in February after she was hospitalized in January. While Jamie was not spotted at the courthouse Thursday, Britney's brother Bryan was. When asked by Usmagazine.com if he had a comment, he shook his head.

Since Spears' father was put in charge, she has reunited with her sons, Sean Preston, 2, and Jayden James, 17 months. Kevin Federline's attorney Mark Vincent Kaplan told Usmagazine.com that a reunion "couldn't have happened without" the help of Spears' father. We were able to get it to a point where everyone was comfortable," Kaplan told Us. We're just very positive about it," he said. "Having her dad stabilizing everything is a good thing."
[From Us Weekly]
By pretty much all accounts Jamie has been a good influence on his daughter. Which is particularly surprising given that he wasn't a very good father while she was growing up. He was an alcoholic who wasn't very interested in his daughter. A lot of people have theorized that this early treatment by her primary male role model is why Britney has often picked the type of guys she's gone after. Jamie turned his life around a few years ago, stopped drinking, and has quietly held a job as a chef. He's never been supported by Britney's money until he became he quit his job to become her conservator – and he still gets paid about what he was making as a chef.
Perhaps in the long run, this could really help Britney and Jamie repair their relationship. It seems like he's been there for her now in a way he never was before. Though nothing can totally erase that memory, later is better than never. Putting his life on hold for her shows Britney that she matters to him and that she has value in his eyes. It can't erase all the damage, but even as an adult it feels pretty amazing to finally feel like you're loved by your parents. Hopefully Britney will continue to get better, and be a whole different person come January 1st.
Here's Britney with Jamie out on February 23rd at Mastro's Restaurant . Images thanks to Splash.