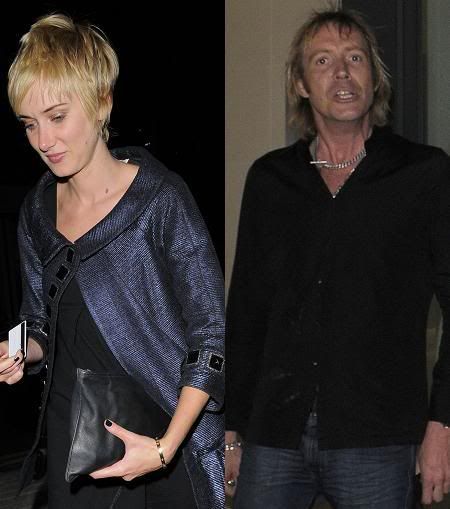 Nothing sets a girl's heart aflutter in the early stages of dating like some freshly picked flowers; a handwritten note; or a trip to your man's favorite strip club. Or at least that's what Rhys Ifans would probably tell you.
Rhys was recently dumped by fiancé Sienna Miller. Via the phone. Sienna then claimed to friends that she never really had romantic feelings for Ifans. To his credit, Rhys didn't go off the deep end, he has yet to rack up a DUI, and as far as I can tell he hasn't made any large, stupid man-type purchases like a jet ski… or a decent haircut. I haven't actually researched any of this, but I haven't run across any benign dribble about it in the Daily Mail, and considering the mundane crap they'll report on, I'm pretty sure it would have been splashed across the front page.
What he did do was start dating Kimberly Stewart, empty socialite daughter of Rod. By most accounts Kim makes Paris Hilton look like Jonas Salk. Apparently Rhys wanted to set himself apart from all the other guys and show Kim right of the bat just what kind of thoughtful guy he can be. So he took her to a nice dinner… at his favorite strip club.
Kimberly Stewart is said to have been left disappointed with Rhys Ifans after he apparently took her to a lapdancing club.

The pair have been spotted out in London on several dates since they met recently.

But it seems Rhys' idea of a romantic night out involves a trip to strip club Spearmint Rhino..

'It was awful,' a source tells the Daily Star. 'What girl wants to go to a titty bar with her new boyfriend at the beginning of a relationship?'

Earlier, Kimberly, 28, and Rhys, 40, had been partying at London's Bungalow 8 club, where the Notting Hill actor got into a row with the paparazzi.
[From Now Magazine]
Ahhh, romance. Really, a guy could skip the flowers and the chocolates as long as he showed up at my door with a nice pair of pasties. There's something about how sad and mopey Rhys Ifans often looks that makes me feel really badly for him. He seems to want a girl to settle down with, and somehow gets these fairly hot blonds. But they're only into him for so long, then it's back to the strip club. Maybe he should just start dating someone from there. It'll save him a few steps, and I think they'd be a little less likely to leave him for Balthazar Getty.
Here's Rhys and Kimberly on their way to Spearmint Rhinos strip club on July 31st. Images thanks to WENN.