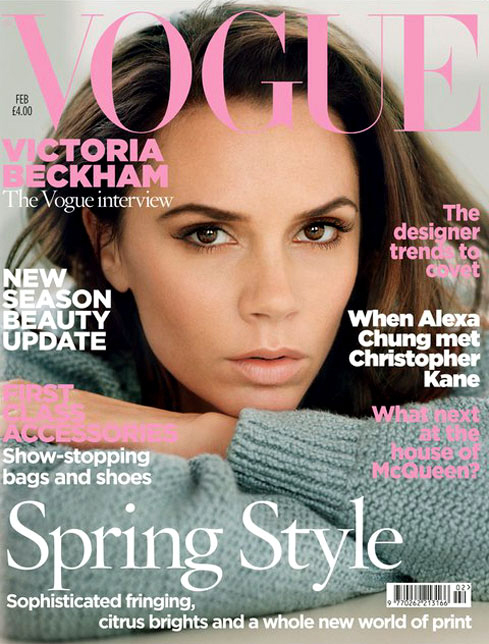 Sigh… another year without an American Vogue cover. Victoria Beckham has to console herself with yet another Vogue UK cover. Instead of going for her usual jacked-up high-glamour look (if you want to call it that), Victoria's cover shot is suspiciously low-key. This, too, is forced. The Vogue UK writer Lisa Armstrong notes, "No French manicures. No torpedo bazookas, either. 'Gone,' she announces." Why the change? Because Posh is going from WAG to fashion designer, and wants to be seen as low-key. Can I be honest? I rarely say this kind of thing, but Posh looks better when she's "unnatural" you know? I don't like this un-glamorous shot of Posh. It makes her look like she's got mental problems, especially with her mouth hanging open like that. Anyway, in the interview excerpts, Posh talks about her marriage, etc:
Victoria Beckham has been unwavering in her love and devotion for husband David after 11 years of marriage. But despite his athletic figure and metrosexual appearance, the former Spice Girl admits even he has his off days.

Just months after Posh declared her husband looked 'naturally good all the time', she appears to have changed her mind. In a new interview with the UK edition of Vogue magazine, the 36-year-old spoke frankly about her husband of 11 years.

Speaking in the February issue of Vogue – her sixth Vogue cover – she said: 'The other morning I looked across at David just after he'd woken up and thought you look really crap. Thank God, because this is a man who always looked so perfect.'

Her remarks were in stark contrast to an interview she gave to Marie Claire magazine in October.

She said at the time: 'He just naturally looks good all the time. He never looks like s*** in the morning. Never. So he's sitting there sending his e-mails, all ripped. Not an ounce of fat on him. And I thought, you done good, girl. I sure wasn't thinking of his high-pitched voice.'

Victoria's appearance in Vogue is the sixth time she's appeared on the cover of the magazine. She's already graced the covers of Russian, Indian, Turkish, German editions, and the British edition once before in 2008.

Also in the Vogue interview, she admits she's finally given up on her long hope for a baby girl. She also confesses to having her breast implants removed and admits the power balance between herself and David is changing.
[From The Daily Mail]
Yeah, I buy that she loves the hell out of David Beckham, and I'll also buy that he adores her. But not even his lawsuit against In Touch Weekly will convince me that David can keep it in his pants. He just has that problem, and it must be hell to deal with… that is, if Posh can even admit it to herself.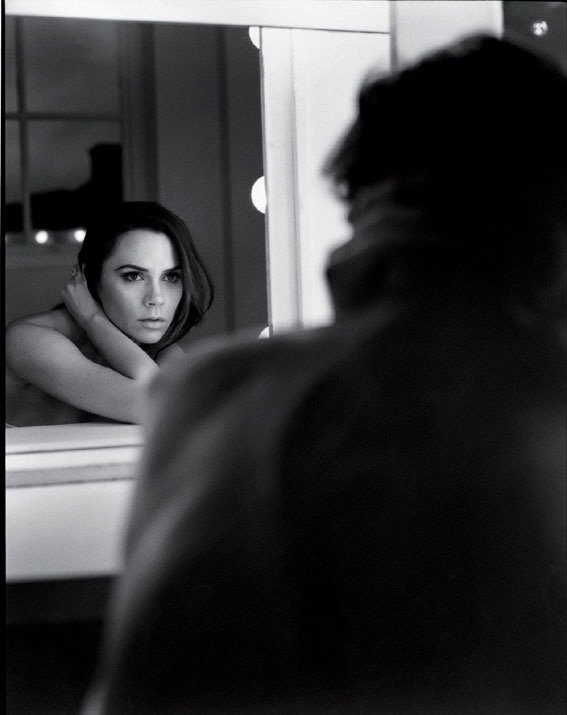 Photos courtesy of The Fashion Spot.