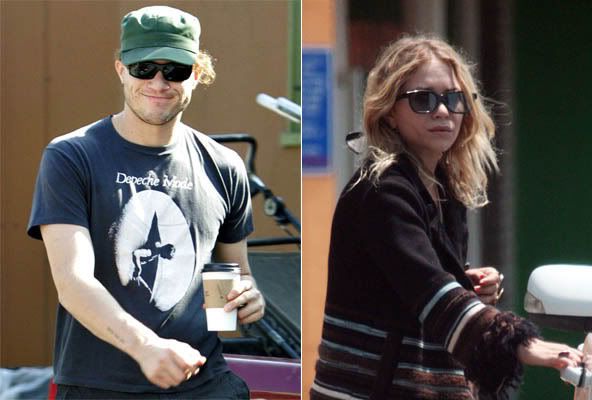 Heath Ledger died accidentally on January 22 from a prescription drug interaction. Six prescription medications were found in his system, none of which was taken to excess. He took a normal amount of two drugs for anxiety, two sleeping medications, and two pain medications.
Heath was suffering from pneumonia after filming in cold rainy London on late nights for The Imaginarium of Dr. Parnassus, and had trouble sleeping after the anxiety and stress of playing The Joker in the Dark Knight. He may have forgotten he took some of the pills and could have inadvertently taken more, or it's likely he genuinely believed he was taking them as prescribed and would be fine.
Investigators from the US Drug Enforcement Administration looking into how Heath obtained the drugs found that he had legal prescriptions from two doctors for all but one of them – the powerful painkiller Oxycontin. They've interviewed everyone close to the situation except Mary-Kate Olsen, who refuses to speak without immunity from prosecution.
A masseuse was the first person to find Heath's body. She called another client and friend of Heath's, Mary Kate Olsen, twice to ask for advice before emergency services were summoned. Mary Kate sent two private security guards to Heath's apartment and never told the masseuse to call 911. By some accounts the guards arrived at the scene after the EMTs, but I read an eyewitness account that they were there a few minutes before. Given Mary-Kate's request for immunity, and the protective way she responded when she learned he was unresponsive, we can assume she knows something about this case. The NYPD has closed their case, but the Feds are still interested. Mary-Kate's lawyer will not comment on if the investigation is a criminal one, but she doesn't want her client to talk unless she's not going to be prosecuted. Mary-Katie can be legally compelled to talk with a grand jury subpeona:
The actress' lawyer has repeatedly rebuffed attempts by the feds to question Olsen, who was the first person called after her masseuse discovered Ledger's body in his SoHo apartment in January.

Frustrated federal officials could obtain a grand-jury subpoena to compel the funky "Full House" actress to tell them whatever she knows about the "Dark Knight" star's behavior, his possible drug use and the events of that fateful morning, according to sources.

Probers have interviewed everyone connected to Ledger and his death, including his doctors, the masseuse, bodyguards, housekeepers, business associates and even the mother of his 2-year-old daughter, Matilda, his "Brokeback Mountain" co-star Michelle Williams.

"Ms. Williams was extremely nice and cooperative," a source said.

Another added, "Everyone has been very eager to help, saying what a great guy Heath Ledger was, everyone except Mary-Kate, who has refused to speak."

That source explained that Olsen would be the final witness they need to conclude their investigation into where he got his drugs and medicines.

Ledger – whose performance as the Joker in "The Dark Knight" has ignited Oscar buzz – died of a potent cocktail of prescription drugs and OxyContin, the latter of which was likely obtained illegally.

His death was ruled an accidental drug overdose by the medical examiner.

And NYPD investigators closed their probe without interviewing Olsen because, they said, they got all the cooperation they needed from others. That decision, however, surprised some observers, considering Olsen's role as a potential witness.

Instead of calling emergency responders after getting the call from her masseuse, Olsen telephoned her bodyguards in the Big Apple, telling them to race to Ledger's Broome Street home, where they arrived just as paramedics got to the scene.

The US Drug Enforcement Administration, which opened an investigation to determine the sources of Ledger's drugs, was not as sanguine as the NYPD about talking to the 4-foot-11, 90-pound Olsen.

The feds contacted her lawyer, Michael Miller, several times recently seeking her cooperation, but Miller has told the feds Olsen won't be interviewed unless she gets immunity, exercising her constitutional rights.

According to sources, all of the drugs in Ledger's body and discovered nearby in prescription bottles were legally obtained from two physicians – with the exception of OxyContin, a powerful painkiller.

Investigators "are trying to ID the source of the OxyContin," a source said. "Did it come from a dealer, from a friend? If he had a bottle from a friend, was it taken by someone else before police responded? That is what is trying to be determined."

The DEA probers were also aggressive with the NYPD, the sources said, and were forced to threaten to obtain a grand-jury subpoena before getting the department's Ledger files.

An NYPD spokesman said the department never balked at handing over the files and did so after receiving a routine federal administrative subpoena.

Asked whether he asked for immunity for his client, Olsen's lawyer said, "We are not going to comment on whether there is a criminal investigation," and declined to speak further.
[From the NY Post]
I thought this case was all but closed, and am surprised that the DEA is looking into it so closely. Mary-Kate's response did seem suspicious at the time, but it was easy to chalk it up to another celebrity hoping to keep a friend's medical condition private. We'll have to see if anything more comes out of this. It's not uncommon for people to lend their friends medication and even if she did give Heath the Oxycontin and was prosecuted it's hard to see how she would end up with jail time. Still, the DEA has aggressively gone after doctors over prescribing pain medication, and it's possible they'll go after Mary-Kate because she's a high profile celebrity and can be made an example of.
Mary-Kate Olsen is shown on 7/16/08 running errands. The late Heath Ledger is shown in an undated image from mid 2005. Credit: Fame.