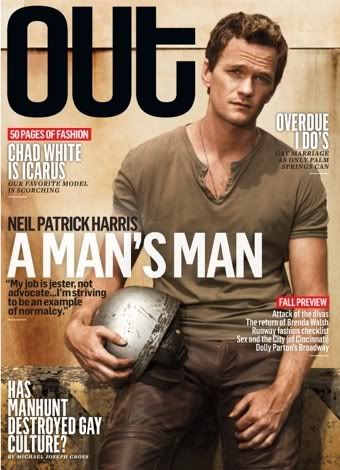 Neil Patrick Harris is on the cover of the upcoming issue of Out magazine, and sounds a bit more like he's considering marriage to his boyfriend of four years, actor David Burtka. Harris had previously given some rather contradictory statements about any impending marriage, but now it sounds like he's getting closer to saying that matrimony is in the works.
Neil Patrick Harris is opening up about making his relationship official with longtime beau David Burtka. "I think if and when we do, we'd probably announce it after the fact as opposed to making any big announcement," Harris, 35, says in the September issue of Out magazine.

"We both wear rings, and I'm giddy when I see all the pictures of people so happy standing there, confirming the love they wish they could have expressed for a long time," he explains. "I'm a big proponent of monogamous relationships regardless of sexuality, and I'm proud of how the nation is steering toward that," he adds.

Harris said being outed by the media in November 2006 "was tricky. Part of the coming-out process is figuring out who you like and what that means, and how to act on it," he explains. "Being an actor reduced my level of anonymity. I couldn't just go to some bar and walk in and ask someone out on a date," he adds. "If I had any regret it would be that strange lack of anonymity that created panic within myself that I would be found out."
[From Us Weekly]
Neil also says his secret celebrity crush is Anderson Cooper. I love it when my gay crush has a crush on my other gay crush. Such drama. Harris has done a good job of not being typecast. He's successfully played a major womanizer on How I Met Your Mother for several seasons, and his coming out didn't affect the show's viewership. As Out points out, it wasn't much of a big deal with Harris released a statement a few years ago. It sounds like he's pretty happy with his life and his relationship, and quite possibly getting married in the near future.
Here's Neil Patrick Harris at the Emmy Awards nominee announcements on July 17th. Images thanks to PR Photos.