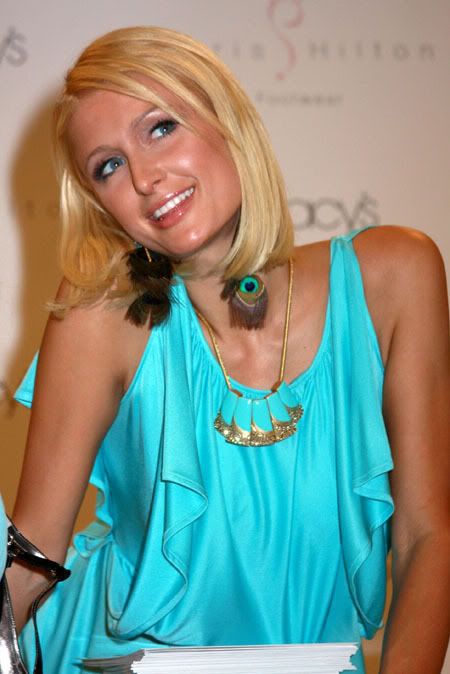 Never ever do I want to give Paris Hilton credit for anything. Ever. But today I have to. The heirhead managed to retaliate against John McCain's stupid ad in a way that was both humorous and classy. At least for a Hilton. Paris' mom Kathy went apeshit on McCain for mocking her daughter. And that's understandable – any good mother would be peeved. But Paris is a grown woman, and actually did a pretty good job in her retaliation – even if it was conceived and written by someone else.
Paris Hilton has thrown her hat into the US presidential race, declaring her desire to campaign against "that wrinkly white-haired guy" and threatening to paint the White House pink if elected. The blond socialite responded to Republican candidate John McCain's controversial use of her image in a campaign television spot last week with a satirical ad of her own posted on the website Funnyordie.com.

In the ad, the 27-year-old appears reclining on a sun lounger beside a swimming pool, dressed only in a skimpy leopard-print bathing costume. "Hey America, I'm Paris Hilton and I'm a celebrity too," Hilton declares breezily. "Only I'm not from the olden days and I'm not promising change like that other guy. I'm just hot! But then that wrinkly white-haired guy used me in his campaign ad, which I guess means I'm running for president. So thanks for the endorsement white-haired dude, and I want America to know I'm, like, totally ready to lead."

Hilton then offers an alternative US energy strategy, suggesting that she plans to combine elements from McCain and Democratic rival Barack Obama's policy platforms. "We can do limited offshore drilling with strict environmental oversight while creating tax incentives to get Detroit making hybrid and electric cars. … Energy crisis solved, I'll see you at the debates, bitches!" Hilton then signs off by declaring that she is now mulling her choices for vice-president. "I'm thinking Rihanna," she said, referring to the singer-songwriter.

"I'll see you at the White House," Hilton adds. "Oh, and I might paint it pink. Bye!"
[From Yahoo! News]
Hilton's acting is generally a bit stiff and uncomfortable – pretty much what you'd expect. Yet she pulls off the harder lines much better than the funny, lighter ones. When she talks about oil drilling, you'd almost think she's a decent actress. And if you're me, you're really surprised that she was able to read such big words. I don't delude myself into thinking that Paris understood them, and she probably had them sounded out phonetically on big cue cards nearby. But I'm impressed, nonetheless.
The brains behind Hilton's advert were Funnyordie.com contributors Adam McKay and Chris Henchy, who pitched the idea of filming the spot to Hilton.

"She got it that the McCain thing was a low blow," McKay told AFP. "And she felt she didn't want to return it with angry fire, and that this was the best way to respond. It's a playful jab."

Henchy and McKay both believe Hilton is more intelligent than her tabloid persona lets on.

"She's a lot smarter than people give her credit for," Henchy said.
[From Yahoo! News]
Chris Henchy is Brooke Shield's husband. And I'm praying to God that he's just being kind. He's married to one of the smartest actresses out there. I seriously doubt he was duped into thinking Paris Hilton has two IQ points to rub together. But obviously he's not going to go around and say, "Hey, this celebrity who was nice enough to mock herself for our website is a total moron!" I don't think. Either way, it's a pretty funny response to McCain's ridiculous advertisement, which was a lame attempt at humor. It's kind of pathetic when the response is so much better than the original ad.
Paris HIlton is shown at the launch of her footwear collection on 7/29/08 at Macys in Las Vegas. Credit: Chris Connor / WENN