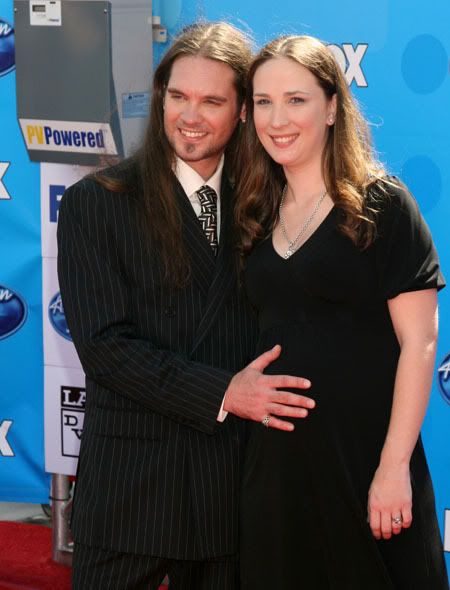 Bo Bice was the American Idol runner up who lost to country singer Carrie Underwood in 2005. Bo is a Southern rock style singer with a strong voice and a great personality. My husband and I were rooting for him and were disappointed to see Underwood win, although she definitely has talent and went on to greatness. Bo is an amazing performer who commands the stage, yet he comes across as incredibly down to earth and genuine. I remember Bo joking in one of the taped segments on the show that he didn't quit his job when he got accepted as a contestant because he wanted to make sure he was able to collect unemployment – and he did.
Bo and his wife Caroline Fisher had their second child, a baby boy named Caleb, on Tuesday. Bo and Caroline also have a nearly three year-old son, Aiden:
American Idol season 4 runner-up Bo Bice and his wife Caroline Fisher welcomed a baby boy, Caleb, on Tuesday, his rep tells Usmagazine.com exclusively.

Bice, 32, and Fisher wed in July 2005 in Helena, Alabama. Their son Aidan was born in September 2005.

"[Caleb] is a good biblical name," Bice said at the American Idol finale show in May. "We stuck with that with both kids – good Irish and good biblical names… We're just blessed to have such a beautiful family."

The rocker, who lives in Nashville, released the album See the Light in October 2007.
[From US Weekly]
Bo's career post-Idol has been marred by health problems that he's soldiered through. He had severe intestinal problems which led to repeated hospitalizations during his 2006 tour. In late 2006 he underwent two emergency surgeries to correct the problem and is now doing better. His 2005 album See the Light went gold, although RCA has since dropped him. Bo recorded the title track to the March, 2007 film Blades of Glory, and released another album, See the Light, on his own label in October of last year. The first video from that album, Witness, was at number 1 on VH1′s top 20 for three weeks in December.
In February, 2008, Bo went to Kuwait and Afghanistan to perform for US troops stationed there, and he plans to go back in the Fall.
Congratulations to Bo and Fischer on their new arrival! He seems like a hard working guy who deserves his success. We hope he continues to have good health, a successful music career and a very happy family life.
Bo Bice and his wife are shown at the American Idol 2008 finale on 5/21/08. Credit: Nikki Nelson/WENN. He is also shown at the Hero Awards on 6/6/08. Credit: Apega/WENN