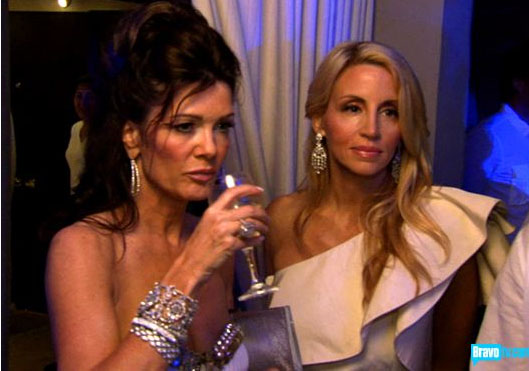 Spoilers for last night's RHOBH
This week's Real Housewives of Beverly Hills didn't involve the amount of cat fights and bitchiness we've come to expect, but that wasn't for lack of trying on Camille's part. It just seemed like Kyle and the rest of the women were wise to it and didn't let her cheap tactics get to them. I won't do a full recap here as I want to focus on some other stories about Camille, but the highlights were:
– Cedrick's story of a childhood on the streets
– Camille's tennis party followed by a swim in which she paraded in a bikini, (As to why the other women didn't want to swim she said "I guess it's just female jealousy,")
– Camille's passive aggressive gift to Kyle, a book called How to Behave and Why, and
– Kyle's awesome white party for Mauricio's birthday, which looked like so much fun.
The main drama this episode focused on Taylor's problems with her husband Russell, who is a dud in social situations and left the party before Taylor, bringing her to tears. Oh and I have to mention that Camille told Lisa that she wasn't speaking much with Kelsey in New York. She said "The lack of communication [with Kelsey] is disturbing to me." It's about to get a whole lot worse for Camille.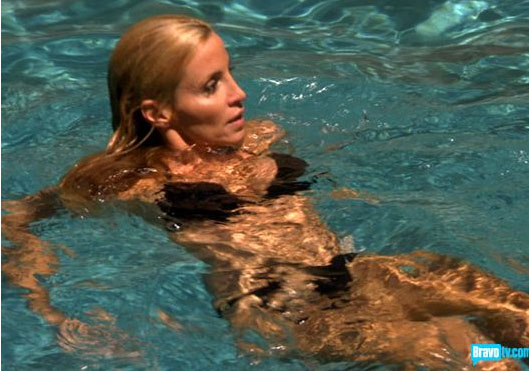 Back in real time, Camille is aware that her husband has ditched her for a much younger British flight attendant. She's also unsure whether she'll return to RHOBH next season. We've heard that she's already quit the show, but according to Radar Online that was a negotiation tactic aimed to increase her salary. (As if she's not set for life with the $50 million she'll probably get in her settlement.) Camille will appear on Ellen in a segment that airs today, and she told her that she's still in talks with Bravo for Season 2. She also said that she doesn't talk to Kelsey:
On the rumors that she is returning for the second season and details about her divorce…
Ellen: And so now, the rumors are that you're quitting. That you're not going to do it again.
Camille: We haven't decided that yet. Right now, as everybody knows, I'm going through a divorce.
Ellen: Well, let me ask you about that. You said Kelsey wanted you to do this. So you got divorced while you were shooting?
Camille: I found out he wanted out of the relationship during the shooting.
Ellen: How did you find out? Did he tell you?
Camille: A mutual friend called me and said, "I don't like what he's doing to you and I don't like the timing because you're still in the middle of shooting a reality show." And then I called him that night and texted him. No answer from him. I waited for three hours and then he called me and said, "I don't want to be married anymore."

On deciding to return for season two…
Ellen: Then when you say you haven't decided yet, I just don't know why you'd want to put yourself out there. Everybody's going to have an opinion when you're on television. People are going to love you. People are going to hate you. I try not to pay attention to any of it because if you believe the good, you have to believe the bad. But there are people, and you know, are saying not nice things about you.
Camille: Oh, they're saying awful things about me and it's very hurtful.
Ellen: So why do it?
Camille: If I would do it, it would be to try to change my image. To try to change it around and have people see the other side of me that you don't see on TV.

Does Camille talk to Kelsey?
Ellen: Since this is happened and it's airing now, has Kelsey, do you speak at all?
Camille: No, we don't speak at all.
Ellen: Because I was going to say, "Has he watched and what does he think about this because it was his idea?"
Camille: Everything I find out is through the press with him. Or he writes me an email or text. I think it's really important for us to speak if we're going to raise children together. We need to co-parent. So right now, my focus now is that we hopefully become friends and we move on from this and we can become good parents to our two young children.
[From The Ellen Degeneres show, aired 1-7-11 and received via e-mail]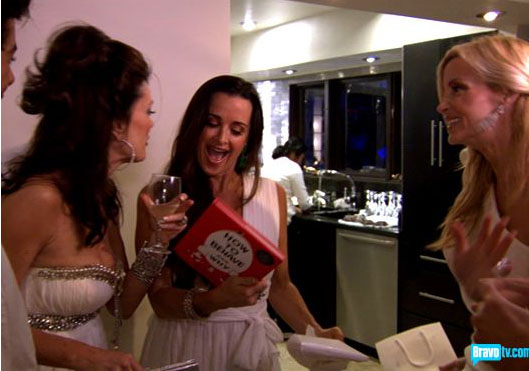 So if you read between the lines, Camille wants to return to RHOBH, but she wants to make sure they don't portray her as the villain. This seems to be supported by Radar, who claims that she's waiting to see how she comes across on the reunion episode, which supposedly involved Camille going off as usual. Camille can't change her image by continuing to appear on that show. She has only one setting, "petty bitch," and you know she's not going to change. What little money she's making from the show isn't worth it in the end to her either. She'll probably stay on it though, because she's delusional like that and has more bikinis to show off.
Radar has video of Camille's appearance on Ellen, in which they exercise on stationary bikes the whole time.
Photos courtesy of BravoTV and The Ellen DeGeneres show.