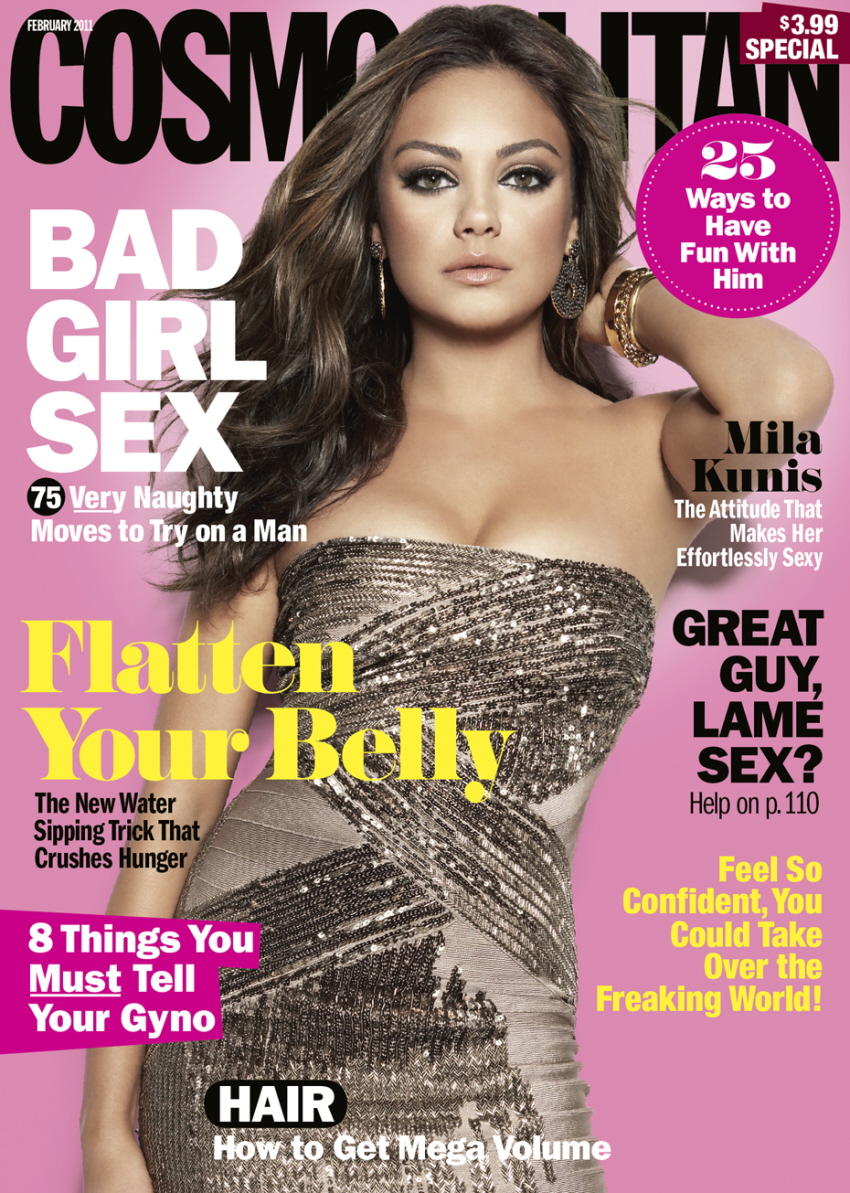 Mila Kunis has been named Cosmopolitan Magazine's "Fun, Fearless Female" of the year, and she makes the cover of the February issue. A word about Mila on the cover – Oh MY GOD. Is it just me, or did Mila's goddess beauty just come out of nowhere? Like, she was always really pretty. She was always adorable. She was always striking. But over the past year – over the past few months, really – all of a sudden, Mila is one of the most stunningly beautiful women in the world. Yes, this is just the cover of Cosmo, and not some fancy-smancy beauty/fashion magazine. But Mila doesn't ever take a bad photo, does she? Anyway, Cosmo has released some snippets from Mila's interview:
What Mila looks for in a man: "Confidence, not cockiness. Knowing who you are is confidence. Cockiness is knowing who you are and pushing it down everyone's throat. Looks go; they fade. I don't think looks matter…[I like men who] do gentlemanly things like open the door for me while writing me a song and taking control in the bedroom while showing off his muscles."

On being partially blind because of Chronic iritis (an inflammation of the iris): "I was blind in one eye for many years, and nobody knew… I'm not blind anymore. I had surgery a couple of months ago. They cut it open and dropped a new lens in there."

Who was her best on-screen kisser: "Justin [Timberlake]'s upper lip…Natalie [Portman]'s bottom lip…Ashton [Kutcher]'s stubble…James [Franco]'s chin…and Jason [Segel]'s teeth."
[From Cosmopolitan, via various sources]
Ew ew ew ew… eye surgery is one of my big gross-outs. Like, anything with someone touching someone's eye. A closeup of an eyeball is enough to have me gagging. Which is one of the reasons I've never been able to watch A Clockwork Orange from start to finish – I've seen the whole thing, but once the eye closeups start, I have to go vomit. *deep breath*
Also, Russell Brand was named Cosmopolitan's Fun Fearless Male of the Year. His Cosmo cover is… magnificent. I mean… I LOVE the crazy look in his eye, like "Yeah, I'm posing on the cover of Cosmo, and I'll still STAB YOU IN THE EYE and sleep with your girlfriend." What Russell actually says to the magazine is about Katy Perry, of course: "Well, she threw a bottle at my head when we first met, and she's been doing that in some form or another ever since." Yes, this marriage is going to last. For another six months.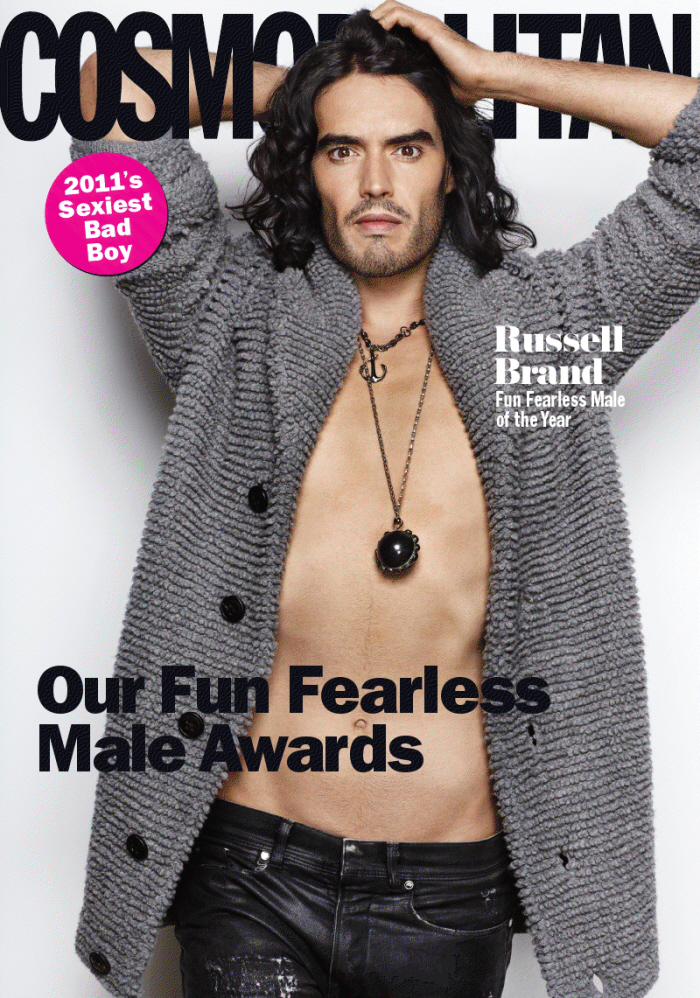 Covers courtesy of Cosmo.