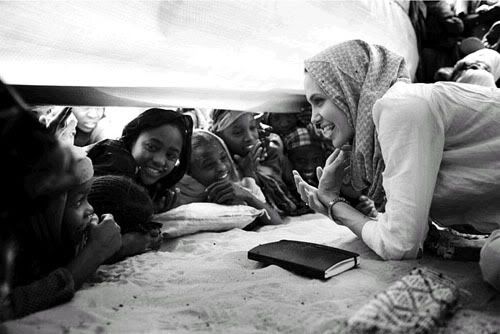 Angelina Jolie is being sought by both the Obama and McCain campaigns for an endorsement. The 33 year-old actress and unmarried mother of six says that she's waiting to reserve judgment on who she'll vote for and is considering both candidates. When each candidate states their position on the refugee crisis and international justice issue Angelina might be able to make up her mind:
It may seem as if most entertainment industry figures are aligning with Barack Obama and just a few with John McCain, but there are still a handful of famous names who are still on the fence. And both campaigns are well aware of one star who stands out among the undecideds: Angelina Jolie.

Both campaigns have reached out to her, apparently to court her support. But in a statement to Variety provided by political adviser Trevor Neilson, Jolie says that she is waiting to make up her mind.

"I have not decided on a candidate," Jolie says, "I am waiting to see the commitments they will make on issues like international justice, refugees and how to address the needs of children in crisis around the world."

Unlike many other celebrity endorsements, Jolie's carries the weight and influence of her extensive humanitarian work around the world, as the goodwill ambassador for the United Nations High Commissioner for Refugees. Her statement was an indication that she would be open to choosing a candidate.
[From Variety's Wilshire & Washington via Huffington Post]
Many of you have said that you don't really care who a celebrity endorses and are going to make up your own mind based on the candidates' positions on issues that matter to you. Angelina is such a polarizing celebrity despite her charity work that you would think that candidates wouldn't actively ask for her support. Variety reminds us about Angelina's op ed piece in the Washington Post, "Staying To Help," in which she talked about the plight of the 2 million refugees in Iraq and called on the candidates "to announce a comprehensive refugee plan with a specific timeline and budget as part of their Iraq strategy."
Obama has outlined a phased Iraq withdrawal that does include a provision for "preventing humanitarian crisis" and mentions refugees and international justice specifically. His campaign website says he will provide $2 billion to go to refugee support and that he "will form an international working group to address this crisis." He also says that he will ensure that those who commit war crimes and genocide will be held accountable.
McCain says we should stay in Iraq until Al Quaeda is defeated and the Iraqi government is "capable of governing itself and safeguarding its people." He focuses in his policy outline on success in the war and ensuring that US troops stay in Iraq until the government is self-sufficient. There is no mention of the plight of refugees or displaced people on his website, but he does claim that violence and deaths have been reduced there under the counterinsurgency strategy he advocated. He is quoted as saying that staying in Iraq for 100 or "even a million" more years "would be fine" with him, and he didn't think the American people would have a problem with it.
Staying in Iraq costs $720 million a day by some estimates. It seems the US would have a lot more money and resources to help the Iraqis as well as to partially address the dire economic situation at home if they would withdraw from Iraq under Senator Obama's plan. That's my opinion of course, and Angelina seems to believe that too. She said at the Clinton Global Initiative in September, 2007 that an appeal by UNICEF she was advocating at the time would be able to educate 150,000 children at the cost of "eight hours of current spending in Iraq." I can't see her backing McCain and the war that never ends.
Somehow both these candidates want Angelina Jolie to announce her opinion and support them. I would have liked to hear her say she's staying out of it rather than that she's reserving judgment. Maybe Angelina has already made up her mind, and thinks that if she plays it like she's waiting both candidates will be pressured into coming up with comprehensive strategies for helping displaced people in Iraq and the surrounding countries. Her father Jon Voight supports McCain and wrote an op-ed piece criticizing Obama, but it's not likely Angelina is influenced much by her dad's opinion considering that she hasn't seen him in years.
Angelina Jolie is shown in photos from the Sudan that appeared in Newsweek in March, 2007